MND awareness day 2020 - research in Sheffield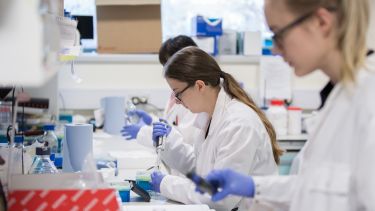 MND, also known as Amyotrophic Lateral Sclerosis (ALS), is a devastating neurodegenerative disorder that affects the nerves – motor neurones – that form the connection between the brain and the muscles. The progressive disease affects a person's ability to walk, talk, eat and breathe. There is currently no curative therapy.
Research teams in Sheffield are working to understand the causes of MND so that they can identify the right targets for potential drugs and ultimately develop new treatments.
Professor Dame Pamela Shaw, Director of the Neuroscience Institute, the Sheffield Institute for Translational Neuroscience (SITraN) and the NIHR Sheffield Biomedical Research Centre explains:
"The pace of medical science does seem slow for patients and families facing a condition such as MND. However, based on the clinical and scientific work happening in Sheffield and around the world, I am optimistic for the future for the following reasons.
The early results of one genetic therapy trial for a particular group of MND patients look very promising and will be published shortly. We have deepened our understanding of the causes of motor neurone injury. This allows us to sub-classify MND better, allowing a more personalised medicine approach to treatment and enabling us to identify new targets for therapy.
We anticipate that our new clinical trials platforms will allow more MND patients to be included in clinical trials of potential new treatments. We are identifying useful biomarkers that will allow us to pinpoint whether a new experimental treatment is having a positive effect more quickly and efficiently.
Pharma and Biotech companies are increasingly interested in working with institutions like SITraN and the NIHR Sheffield Biomedical Research Centre to develop and test new treatment approaches aimed at slowing the progression of MND. So I believe that the research climate is poised to enable real breakthroughs to happen for the benefit of people with MND."
Professor Christopher McDermott, Head of the University of Sheffield's Neuroscience Department and Consultant Neurologist at Sheffield Teaching Hospitals said: "In Sheffield, we continue to strive to make the breakthrough that will rid the world of MND. We do this in partnership with those whose lives are affected by MND and experts around the world. There has been major progress in our understanding of MND that puts us in the best position ever to identify meaningful treatments for those living with MND."
Our researchers also work closely with MND patients to help them manage their symptoms.
The pioneering Head up collar was the result of a collaborative project between patients, engineers and neuroscientists. When a patient identified that current neck collars did not meet his needs our research teams set out to develop a better solution which has now been rolled out in the NHS and around the world.
Our researchers have undertaken a collaborative project that aims to help patients make informed choices about their care. The MyMND platform offers a collection of educational resources for people living with MND. Patients and families can learn about their choices in relation to nutrition and breathing support through short videos, photographs and text.
If you are interested in our MND research, get in touch at neuroscience@sheffield.ac.uk
Partner with us
We're proud to work with local and global organisations to further enhance our translational research.