MND Collections wins UK Biobank of the Year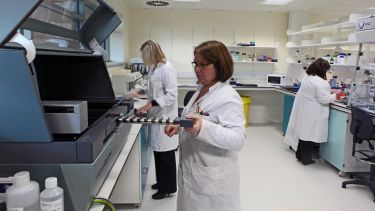 The national accolade recognises the work on the UK MND Collections, a resource of biological samples collected from people living with MND and controls between 2003 and 2012.
The award is in its fourth year and was presented by Amanda Gibbon, chair of the UK Clinical Research Collaboration (UKCRC) Tissue Directory and Coordination Centre Steering committee, and award sponsor, James Siddorns from Greiner Bio-One, at the UK Biobanking Showcase, held at the University of Nottingham in November.
Case studies for two projects that use samples from the MND Collections were submitted as part of the application. The judging panel was particularly impressed by the number of samples that had been released to researchers as well as the research impact and evidence of wider collaborations and engagement. They also noted the readily available practical information contained within the MND Collections website for researchers interested in acquiring samples.
UK MND Collections began in 2003. Participants had two blood samples taken alongside clinical information. One of the blood samples had DNA extracted and stored for genetic testing. The second blood sample had the white blood cells removed and stored in liquid nitrogen (a form of suspended animation) to act as a back up sample to replenish the stocks of DNA if they were ever to run out.
As the study progressed researchers found that they were able to wake the blood cells up from their suspended animation and grow them in a dish to see the effect the DNA variations were having within the living cells.
Science has moved another stage further, and it is now possible to wake up these blood cells and persuade them to become induced Pluripotent Stem Cells (cells that can grow to make any other cell type within the body). These can then be converted into motor neurons in a dish. This enables researchers to see how the genetic variation in the DNA is causing the motor neuron to die as well as enabling the testing of potential drug treatments directly on the motor neuron.
Dr Brian Dickie, the MND Association's Research Director said "We are proud to receive the honour of being named the 2019 UK Biobank of the Year. The MND Collections continues to contribute towards the discovery of genes associated with MND, as can be seen from the announcement of a new gene on 25th November 2019. This award recognises the invaluable resource of biological samples that the MND Collections are able to provide to researchers around the world to help find the causes of MND and potentially a cure."
Partner with us
We're proud to work with local and global organisations to further enhance our translational research.