The Sheffield Pain Network brings together basic scientists, clinicians, patients and industrial partners to improve the lives of people living with pain.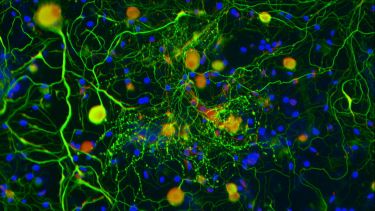 Off
To improve the understanding and treatment of pain, an extensive multidisciplinary approach involving all stakeholders is required; including basic scientists, clinicians, patients and industrial partners with wide-ranging fields of expertise.
The Sheffield Pain Network is a multidisciplinary research community of individuals and groups who have established international reputations in pain research. Our members consist of Sheffield based researchers spanning a very broad range of disciplines from basic through to clinical research, as well as members from various patient and carer support groups. The main cohort of our members are from The University of Sheffield with additional members from Sheffield Hallam University, Sheffield Teaching Hospitals, Northern General Hospital, Sheffield Children's Hospital, medical practices and local charities.
The aim of the Sheffield Pain Network is to build on our existing strengths in the field of pain to develop an internationally excellent, multidisciplinary research centre in Sheffield that will enhance the understanding of chronic pain and improve its treatment.
University of Sheffield researchers
Network Director
Academic members
Sheffield Pain Network partners
Sheffield Hallam University
Sheffield Teaching Hospitals
Northern General Hospital
Sheffield Children's Hospital
Academic partners
Aalborg University
Federal University of Santa Catarina
Imperial College London 
King's College London
FMRIB Oxford University
University College London
University of Leeds
University of Liverpool
Xiangya Hospital of Central South University
NHSA
Industrial partners
Astra-Zeneca
Eli Lilly
Pfizer Neusentis
Funders
Biotechnology and Biological Sciences Research Council
British Heart Foundation
Diabetes UK
Eli Lilly
European Foundation for the Study of Diabetes
Medical Research Council
NIHR Efficacy and Mechanism Evaluation
NIHR Health Technology Assessment
Royal Society 
UKRI 
Versus Arthritis
Wellcome Trust 
---
Partner with us
Please get in touch if you have a research idea or would like to collaborate with us.
Professor Fiona Boissonade, Network Director
Partner with us
We're proud to work with local and global organisations to further enhance our translational research.