MS patients could be offered stem cell transplants as a first-line treatment in new world-first trial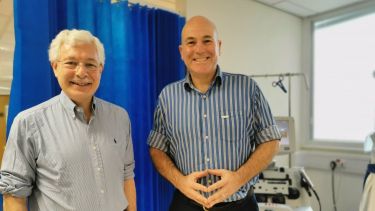 World-first trial investigating the use of stem cell transplantation for patients with aggressive multiple sclerosis (MS) as a first-line treatment is launched across the UK
The trial, run by the University of Sheffield and Sheffield Teaching Hospitals NHS Foundation Trust, will measure how effective stem cell transplantation is in comparison to four drug treatments currently used to treat MS patients
Building on the results of a previous trial, this new research is open to patients with aggressive forms of MS, as well as those with the relapsing remitting form of the disease
Multiple sclerosis, the most common chronic inflammatory and neurodegenerative disease of the central nervous system in young adults, affects 100,000 people in the UK
A world-first trial investigating if stem cell transplantation could be used in patients with 'aggressive' multiple sclerosis (MS) as a first-line treatment.
The study launched by the University of Sheffield and Sheffield Teaching Hospitals NHS Foundation Trust will trial the pioneering therapy in patients with highly active MS which is not responding to drug treatment or as a first-line treatment for patients with the aggressive form of the inflammatory and neurodegenerative disease.
The £2.3m StarMS study, which has already opened its doors to patients in Sheffield, is now being launched in multiple sites across the UK. It will be the first to compare how effectively autologous hematopoietic stem cell transplantation (AHSCT) is when compared with four other highly effective drug treatments which have shown great promise in clinical trials (alemtuzumab, ocrelizumab, ofatumumab and cladribine).
The trial will build on the results of the landmark MIST trial which was the first in the world to show that stem cell transplantation could reverse disability in patients with MS. This trial also showed that AHSCT worked better than the disease-modifying drugs available at the time in reducing the risk of disability accumulation in patients with the highly active form of the disease.
However, advances in treatment options for patients with multiple sclerosis have been rapid since the initial trial, with the highly effective disease-modifying therapies alemtuzumab, ocrelizumab, ofatumumab and cladribine showing that they can reduce disease activity and disability accumulation in clinical trials.  
The new StarMS trial, which is being funded through a National Institute for Health and Care Research (NIHR) and Medical Research Council (MRC) partnership, will pick up from where the MIST research trial left off, to compare the effectiveness and safety of AHSCT against these highly effective therapies. The trial will also determine the future place of AHSCT as a first-line treatment option for patients with 'aggressive' multiple sclerosis. 
When complete, the findings of the StarMS trial could revolutionise care for thousands of people who suffer with multiple sclerosis, the most common chronic inflammatory and neurodegenerative disease of the central nervous system in young adults which affects 100,000 people in the UK, and 2.3 million globally. 
The trial will run across 19 UK sites. Each participant will be randomly allocated to receive a stem cell transplant or one of the newest highly effective disease modifying therapies.
Lead Trial Neurologist, Basil Sharrack an Honorary Professor of Clinical Neurology at the University of Sheffield and Consultant Neurologist at Sheffield Teaching Hospitals NHS Foundation Trust, said: "Currently, there is no cure for multiple sclerosis, but huge advances have been made in recent years, with the MIST trial offering renewed hope for people living with this devastating condition. We now want to bring this research up to date, by taking into account all the latest advances in treatments.
Professor Sharrack, who is also Principal Investigator at the National Institute for Health and Care Research (NIHR) Sheffield Biomedical Research Centre, added: "This could also provide us with the solid evidence we need to demonstrate that AHSCT can be offered as a first line treatment for those with the aggressive form of the condition. We are delighted to be using our internationally renowned expertise in stem cell transplantation to bring this latest research to the potential benefit of thousands of patients." 
Chief Investigator, John Snowden, Honorary Professor at the University of Sheffield and Consultant Haematologist at Sheffield Teaching Hospitals NHS Foundation Trust: "Autologous hematopoietic stem cell transplantation has been shown to be highly effective in stabilising, and even reversing disability, in certain patients with multiple sclerosis. But the treatment landscape in this condition has shifted since the original MIST trial. The trial will measure how good and safe AHSCT is when compared head-to-head with the latest leading treatments for multiple sclerosis.
"In this way, we hope to determine the exact place of AHSCT in the modern treatment pathways for patients with severe multiple sclerosis. Such translational research may also offer important insights into the fundamental immune system abnormalities that cause MS in the first place." 
Colette Edwards, 53, an occupational therapist and mother of two from Rotherham, was diagnosed with multiple sclerosis in 2011. Over the next five years Colette tried various treatments for her multiple sclerosis, but nothing would abate the worsening relapses and damaging spasms that would impair her walking and often cause her to collapse when getting out of bed. In 2016, Colette received the HSCT treatment as part of the MIST Trial.
Thankfully I have not experienced any relapses since the HSCT treatment, which continues to give me security and assurance that my condition is in a state of prolonged remission.

"My husband and I are now married, and we have fulfilled our dream of living in the countryside having moved to a village in West Yorkshire in 2020. I started doing a PhD in 2018, and I am able to do all the things I wanted to do with my family. I can now contemplate a future without progressing disability, HSCT has improved my quality of my life, I no longer live with the anxiety of waiting for the next episode of MS to take my independence away.
Dr Sarah Rawlings, Executive Director of Research & External Affairs at the MS Society, said: "HSCT can be life-changing and some people with multiple sclerosis see their symptoms stabilise or even improve after receiving it. We currently don't know enough about the benefits or safety of HSCT compared to other disease modifying therapies that are also highly effective but, like HSCT, can come with serious side-effects. The evidence from StarMS will provide vital information for people considering their treatment options."
The research team will also look to undertake hypothesis-driven studies in the laboratory to understand the precise mechanism that enables AHSCT to successfully treat patients and will use various biomarkers to see how well the body responds to the five treatments being offered in the trial.
The Autologous Stem Cell Transplantation versus Alemtuzumab, Ocrelizumab, Ofatumumab or Cladribine in Relapsing Remitting Multiple Sclerosis (Star-MS) study is being supported and delivered through the University of Sheffield's Clinical Trials Research Unit, with the Sheffield NIHR Clinical Research Facility supporting the study in Sheffield. 
More information about the study, including the current eligibility criteria and participating trial centres can be found at the dedicated StarMS website.
---
Flagship institutes
The University's four flagship institutes bring together our key strengths to tackle global issues, turning interdisciplinary and translational research into real-world solutions.