Careers and employability
Coming to Sheffield is about making the most of the experience, as well as preparing for what's next. Whether that means charting a professional path or continuing in the academic arena, it's a chance to find a future with real impact.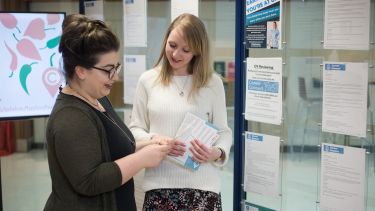 A Sheffield degree is preparation for life and the world of work. Our aim is to enable our students to take their place in the world, working alongside the brightest and best. They will leave Sheffield with the resilience, adaptability and confidence to manage a career in an ever-changing global jobs market.
Degrees with a placement year
Part-time jobs, internships and volunteering
Networking and opportunities to meet employers
Development of skills, personal attributes and self awareness
Access to guidance for student entrepreneurs
Career guidance, CV and interview advice
Careers service
Our Careers Service supports all of our students throughout their course and after they graduate. We have strong links with many industry leaders, and invite employers to our campus who are actively looking to recruit our students.
Top 10 in the High Flyers Most Targeted Universities by Employers list

Graduate Market in 2022 report
There is a comprehensive programme of events throughout the year including workshops, networking events and presentations. Our careers advisors support sessions on writing CVs and improving interview techniques.
Learning from experience
Many of our degrees give you the chance to build in a year's work experience. We'll also help students to find shorter placements, vacation work, part-time jobs and volunteering opportunities which can give them invaluable insights into how organisations work.
A world top-100 university
We're a world top-100 university renowned for the excellence, impact and distinctiveness of our research-led learning and teaching.