How your child will receive their year-end or final results and what they mean.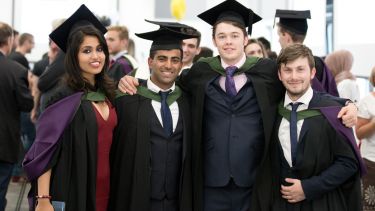 On
Undergraduate students will receive their results online through their computer account.
They will also receive a Higher Education Achievement Report (HEAR) after each exam period which provides a comprehensive record of their results and extra-curricular achievements.
Postgraduate students will receive a digital transcript of their official results at the end of the year via our secure online Gradintelligence system.
Students can also purchase a paper transcript of their results from SSiD.
We cannot give out results to anyone over the telephone due to data protection.
Continuing students will get a "year-end" result reflecting their performance over the whole year. This indicates whether they can move up a year (progressing).
Final year students will receive an overall degree classification (undergraduate) or a degree award (postgraduate) with their final results.
---
Individual modules/units are usually graded between 0-100 with an outcome code next to it, for example P (Pass), F (Fail), NA (Not Assessed).
The page below explains in detail the grades, codes and degree classification used on your child's academic transcript.
Explaining what's on your transcript
---
Continuing students
When your child gets their results, they will be told how to re-register for next year or repeat modules if they have failed.
Final year students
When your child gets their results, they will be told how to apply for graduation tickets or repeat modules if they have failed.
Debts to the University
Students must pay back any outstanding debts to the University (e.g. tuition fee payments) before they can graduate.
For more information, please visit our graduation pages.
---
Your child can lodge an academic appeal if they believe we should reconsider their grade(s) due to a procedural error or personal circumstance they could not reasonably highlight earlier.
There are short deadlines to submit an appeal so they must act promptly.
---
Along with their final degree result, your child may have also been awarded a prize.
Prizes are either administered centrally by the University or by individual academic departments.
We are not permitted to release information about the academic progress or results of our students to any third party, including parents/guardians. For more information please see our page on confidentiality.
A global reputation
Sheffield is a research university with a global reputation for excellence. We're a member of the Russell Group: one of the 24 leading UK universities for research and teaching.