An outline of the student support services available whilst your child is at University.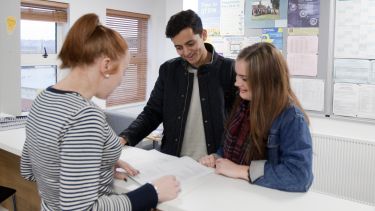 Student Services Information Desk (SSiD)
SSiD is the University's one-stop-shop for all student-related enquiries. If they can't answer your question they can direct you to someone who can.
Student Services Information Desk
---
Student Mental Health, Counselling and Therapies Service
Student Mental Health, Counselling and Therapies Service is staffed by experienced mental health professionals who can assess your child's mental health needs and direct them to the most appropriate support.
Your child can also use our free, confidential Counselling Service for individual, group and online psychological support.
Student Mental Health, Counselling and Therapies Service
Student Welfare and Wellbeing (SWW)
Student Welfare and Wellbeing can provide guidance if your child is experiencing significant personal difficulties and can help them access appropriate support.
Nightline
Nightline is a confidential 24-hour listening service run by students for students.
---
University Health Service (UHS)
All students and their dependents can register with our University Health Service for NHS care.
---
Support is available through our Disability and Dyslexia Support Service (DDSS) for students who have an impairment or condition that has a substantial or long-term adverse effect on their ability to undertake study-related tasks.
Disability and Dyslexia Support Service
---
Our International Student Support team provide information, advice and support on issues such as visas, immigration, settling in and family life/dependents.
New international student checklist
---
The Fees and Funding Team administer our University bursary and scholarship schemes for undergraduate and postgraduate taught students. 
They also have funds available to provide your child with support if they are experiencing exceptional financial difficulties. 
---
Personal tutors
Your child will be assigned a member of staff in their academic department who can provide academic and personal support.
Academic skills support
Our 301: Academic Skills Centre offers a range of services and activities to support your child's academic and study skills development.
---
If your child is in University accommodation, they will be visited regularly by Residence Mentors who can provide support, advice and guidance.
---
If your child is a first-year student, they will be offered a peer mentor to help them with their transition into University life.
---
Chaplaincy Centre
Our Chaplaincy offers care and support for students of all faiths and none.
---
Student Advice Centre
A free and supportive service run by the Students' Union, offering impartial advice and representation to all our students.
---
Due to data protection laws, we are not allowed to release information about our students to any third party, including parents/guardians, without the student's express consent.
Students are requested to provide emergency contact details so we can contact you in case of a medical emergency and at the request of a medical professional.
Releasing information about your child  
---
Information for current students
Students can use our SOS tool to direct them to the relevant information if they are unsure which support service they need.
Signposting Our Support (Student login required)
A world top-100 university
We're a world top-100 university renowned for the excellence, impact and distinctiveness of our research-led learning and teaching.