Equality, diversity and inclusion
We are proud to be a department where all staff, regardless of gender, race, sexual orientation, age, religious belief and disability, work in a supporting environment where they can reach their full potential
Off
We are proud to be a department where all staff, regardless of gender, race, sexual orientation, age, religious belief and disability, work in a supporting environment where they can reach their full potential. The Department holds a Juno Practitioner Award, which recognises its commitment to gender equality.
The Department's Equality and Diversity Group provides the focus for our efforts:
within the Department, to ensure that there is a supportive and egalitarian culture at all levels and across all staff groups;
to gain Project Juno Champion accreditation, to tackle the under-representation of women in science by changing cultures and attitudes;
internally and externally, to promulgate good practice and to promote a culture of equality in higher education.
The Equality and Diversity Group is responsible for monitoring progress towards our goals and overseeing the implementation of new policies.  We aim to ensure evidence-based good practice in all of the Department's procedures.
Membership
| | | |
| --- | --- | --- |
| Deputy Departmental Manager (Operations) | Administrative and Professional Services staff | Angie Rollinson |
| PDRA Rep | PDRA staff | Catherine Phillips |
| PGT Rep | PGT students | VACANT |
| Senior Tutor | Academics, Teaching, Students | David Mowbray |
| PGR Director | Academics, PGR students | David Whittaker |
| PGR Rep | PGR students | Steve Wilson |
| Lay member (permanent staff - physics) | All staff, Research | Alex Ramadan |
| UG Rep (Physoc) | UG students | Autumn Ten Dam |
| Professional Services Rep | Administrative and Professional Services staff | Lizzie Ibbotson |
| DDEDI | - | Katherine Inskip |
| UG Rep (SSC) | UG students | TBC |
| Secretary to committee | - | Olivia Mason |
| HoD, Deputy HoD | Exec | Luke Wilson/Pieter Kok |
| Lay member (permanent staff) & SSC rep | All staff, Research, SSC | Richard Parker |
| DoT | Academics, Teaching | Al Buckley |
| Technical Services | Technical Services staff | Steve Collins |
Departmental equality and diversity vision statement
Our aspiration is that the Department should provide a supportive and professional working environment which supports our outstanding staff and students from a diverse range of backgrounds, life-circumstances and life-experiences in contributing fully to the Department and in flourishing personally in their careers.
This should be widely recognised outside the University; our goal is that our Department attracts an above average proportion of excellent applicants from groups who are under-represented in physics, including women and BAME.
This should lead to an increase in the representation of such groups at all levels, including the most senior, with an expectation of 25% women professors in 10 years, and a longer-term aspiration to fully reflect the diversity of wider UK society. These aspirations will be supported by specific policies that will be developed with the involvement of the Department at all levels and will be consistently and transparently applied.
The Department is represented on the Faculty of Science Equality and Diversity Committee
Case studies
Dr Mike Weir

Mike is the first academic in the Department to take advantage of the UK's new regulations on 'shared parental leave'. He is pictured here with his son Leo making the most of a daddy day in Sheffield's Bole Hill Park. Mike says that "these rules are a step forward in gender equality in the workplace since they acknowledge that parents may wish to share out the early parts of childcare, and help employers realise that it is not only new mothers who will take extended periods of absence. Now our split was very moderate, with me just taking four extra weeks (6 if you include statutory paternity), but as I understand it things could be a lot more equal". For more of Mike's musings on what the shared leave meant for him, see his Blog.

Dr Jenny Clark

Jenny moved to the University of Sheffield in 2013 heavily pregnant with her second child. Jenny says "I chose to move to Sheffield in part because of the welcoming culture in the department during my interview and from seeing that highly successful professors in the department take active roles in childcare."

She took the full maternity leave for her second child and came back to work in 2015. Jenny says "The department and university have been incredibly supportive; offering me a small grant to get my research up and running after my leave, for example. No one bats an eyelid that I work flexibly and part-time, which is still unusual for academics. This has enabled me to work around my childcare duties and my research group is now up to 7 people and we're doing exciting science".

Dr Earl Campbell

Earl Campbell is an EPSRC Fellow working in the theory of quantum light. Earl says "Me and my wife settled in Sheffield just a few months before the birth of our daughter Elora, now almost two years old. Elora's upcoming arrival into the world was certainly one of the factors that attracted us here. Sheffield was a step closer to family. Also, the physics department seemed friendly and the leafy city ideal for starting our own family.

Once here, we felt instantly at home. I discovered the physics department was a community of genuine, interesting and fantastic people. There are numerous coffee mornings, away days and lunch groups, through which I've made friends from different research groups in the department.

My previous experience has been of universities composed of non-interacting research silos, so I was surprised the variety of researchers that warmly introduced themselves. Many of these colleagues have their own children and have been an enormous source of support and advice."

Professor Nigel Clarke

Nigel was head of department until summer 2016 when he took up the post of Pro-Vice Chancellor for the Faculty of Science.

Nigel says "When I started my first academic post I was amazed and daunted by my colleagues apparent ability to work 60+ hour weeks. Since I would typically be at work from 9 until 5.30, I started taking work home with me to keep up with expectations, but then felt depressed for failing to do any due to being distracted by one of what felt like guilty pleasures: cooking, cycling and drumming.

Over several years feeling that I wasn't working hard enough, it dawned on me that the quality of my work, whether it was my teaching, my research or my support work for wider department activities was on a par with that of most of my colleagues, and I started to realise that my working pattern was not only good for my work/life balance but also good for the quality of my work.

When I became Head of Department, many of my colleagues warned me about the long working days I would now face and how I would have to work weekends to compensate. Strangely the opposite has turned out to be the case.

Many of my days are so "full on" that I often leave at 5, head home and take myself out for a strenuous bike ride: one of the great pleasures of living in Sheffield is how easy it is to find a route filled with long steep climbs! The main pressure on me to not go out on my bike is my cat who is determined to be the centre of my attention for the evening.

Admittedly, I might read and send the occasional email in the evenings and at weekends, but I've been working hard to reduce even that activity, as much to leave my colleagues in peace as for my own sake!"

Dr Matthew Mears

Matt joined the department in 2002 as an undergraduate, then a PhD under Professor Mark Geoghegan, followed by an EPSRC Doctoral Prize Fellowship (2011-2012) and Teaching Fellowship (2012-2014) and most recently as a University Teacher in physics.

With both my partner Drew and myself working in academia we both know the pressures involved so both he and I have to try hard to maintain a work-life balance. The flexibility and support within the department mean that I know I can speak to my colleagues if I need to reshuffle workload, even when this needs to happen with little to no warning.

I also feel both supported and encouraged to dedicate some of my time to the LGBT Staff Network, working with different Equality & Diversity groups and committees throughout the University, and most recently launching our institutional 'straight allies' programme called Open@TUoS.

Dr Pieter Kok

Pieter Kok joined the department of Physics and Astronomy as a lecturer in July 2007 and is now Reader in Quantum Information Theory.

Pieter says "When I came to Sheffield, my then two-year old son Xander managed to get a place in the university nursery at very short notice, which helped a lot with my ability to go into the office and my wife's job hunt. Six years later, my daughter Iris was born, and again we were lucky to secure a place in the university nursery. In addition, the department has been very supportive in allowing me to work flexibly, and reschedule some late-afternoon lectures."

Professor David Mowbray

David has worked in Sheffield for 25 years. Between 2006 and 2012 he was Head of Department. He now heads the Department's Equality and Diversity committee and is a member of similar committees at both faculty and university level.

David says: 'I have three children, 19, 15 and 12. Following the birth of our first child my wife returned to work three days a week. On the three days that she worked she would drop my son off at child minder and I would leave work early to pick him up so that he didn't have too long a day away from home. I really valued those hours caring for him before my wife came home. My wife also had to work away from Sheffield for two weeks each year which I was able to cover.

Following the birth of our second child my wife decided to take a career break and only in the last few years has she returned to part time work. Even when I was Head of Department I tried to keep weekends free for the family.

I believe it is very important that senior people within the university set an example that families are very important, for example cancelling meetings when they have unexpected childcare issues, hospital appointments etc and avoiding a culture of excessive working hours.'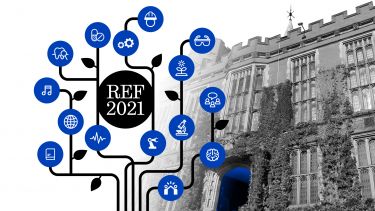 Research Excellence Framework 2021
We have been rated 1st in the UK in terms of the quality of our research. In the latest REF, 100 per cent of research and impact from our department has been classed as world-leading or internationally excellent.