A digital mental health intervention
According to YoungMinds, 80 per cent of young people felt that the pandemic made their mental health worse. Research by psychologist Dr Liat Levita is at the heart of an award-winning interactive show to support secondary school pupils with their wellbeing.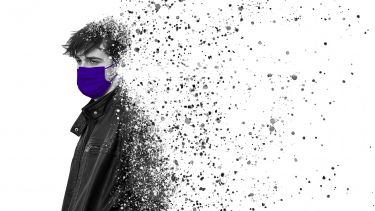 Off
According to the Children's Society, approximately five children in every classroom have a mental health problem. 
Statistics by YoungMinds show that over half of all mental health conditions are established before the age of 14 but less than one in three children and young people with a diagnosable condition get access to NHS care and treatment.
Those who do get access to treatment face an average waiting time of eight to 82 days. 
On 23 March 2020 schools across England shut their doors for a national lockdown, affecting the education, mental and physical health and wellbeing of millions of young people across the country. One NHS study found that 60 per cent more young people had a probable mental health condition in 2021 compared to pre-pandemic levels in 2017, with the highest ever number of young people in contact with mental health services. 
With an increase in demand for young people's mental health services and growing pressure on teachers at schools, how do we provide accessible support to those who need it most?
Dr Liat Levita has an academic background in normative development and investigates the effects of early life stress on wellbeing at different developmental stages of the brain. Her research now focuses on mapping the changes in behaviour and mental health in people aged 13-24, since the start of the Covid-19 pandemic.
Her research and expertise is at the core of developing coping strategies, methodologies and tools in a mental health programme, On The Level, for young people in the UK.
Clinical oversight and evaluation for On The Level was provided by the University of Sheffield's Department of Psychology researchers, and funded by Transdisciplinary Research for the Improvement of Youth Mental Public Health (TRIUMPH).
A collaborative approach
Reprezent is a radio station and youth advocacy group based in Brixton. All playlist music is selected by young presenters and volunteers with a focus on uncovering new artists in the vibrant music scene of London. As well as providing a platform for young people to discuss important issues on air, the group also runs training programmes to help teenagers develop social, emotional and communication skills. 
With a shared interest in supporting young people with their wellbeing throughout the pandemic and beyond, Dr Liat Levita and Dr Jilly Gibson-Miller from the University of Sheffield and Natalie Bisal from Coventry University collaborated with Reprezent to create On The Level. 
Streamed digitally through a phone or laptop, On The Level is an interactive show that helps young people learn about their mental health and wellbeing. From learning how to cope with low moods to registering with health services online, the peer-led show offers academically-validated guidance through its dynamic, young presenters.
The programme is completely free for students and is part of a government initiative to improve mental health in schools.
"Reprezent is very much in charge of recording the content, training the presenters and presenting the actual show. The presenters are superb - they are incredibly charismatic and talented young people. I don't think the show would have worked without their passion and motivation. From our side, we bring the understanding and research of the adolescent brain, adolescent behaviour and the impact that lockdowns have had on mental health" explains Liat.
The programme has raised mental health awareness in over 40,000 young people and provided crucial data & insights to partner schools & organisations such as NHS Digital. But what makes this intervention different?
---
The show was launched virtually due to the pandemic and will remain virtual. Young people feel more comfortable answering questions and articulating their thoughts when there is a virtual distance. This can help to increase engagement and understanding which we hope will  lead to improved mental health and understanding that emotions are not all bad, but have adaptive important functions.

Dr Liat Levita
---
Providing resources and support
The show has numerous interactive features such as a stress dial that enables viewers to articulate how they feel using a traffic light system. It also encourages young people to sign up for online mental health support, with at least ten per cent continuing to use the service after the programme ends.
"The pupils really love the show because it talks to them in a way that a lot of mental health delivery programmes don't. Thanks to the hard work of Reprezent, the tools are presented in their lingo, with their language and music that they can relate to" says Liat.
"The resources used throughout the show help young people understand, categorise and articulate their emotions. This support alone is reducing the pressure on teachers in the classroom. Teachers are not mental health workers. They can have their own mental health struggles and wellbeing issues to deal with" she adds.
As well as presenting a digital show, On The Level also provides schools with additional resources such as self-help tools and ways to cope with different levels of stress.
"When you're struggling mentally it can feel like you're in the middle of a storm and many people struggle to think rationally. We have put together materials to help young people centre these anxious or depressed thoughts and feelings" explains Liat.
"We're also supporting parents by providing resources about the adolescent development of their children. Parents learn a lot about how babies develop their brains, but they don't receive information about how the later impact of hormones and puberty affect brain functionality. You can't treat every young person the same way as they're all at different stages of development, as well as living through different environmental contexts. While our programme can't take a child out of poverty or a difficult family or neighbourhood, OTL was designed to try to give them the tools, confidence and resilience to help them succeed and increase their wellbeing" Liat reflects.
An award-winning intervention
In November 2021, Dr Liat Levita, Natalie Bisal and Dr Jilly Gibson-Miller, along with Reprezent, were presented with the Health Service Journal's Mental Health Innovation of the Year award for their work on the On The Level programme. 
"I am really proud that our work and knowledge about adolescent development became a key part of the show, empowering young people to understand why they may feel the way they do at this developmental stage, and what to do about it if their feelings do get too much" says Liat.
The project continues to collect anonymous data about the impact and engagement of young people with On The Level. This has been vital for creating safeguarding dashboards for schools and colleges and demonstrating the clear impact of the research.
Since launching in March 2021, 98 per cent of schools would recommend the programme to others, 99 per cent of teachers said that the show's information is vital for young people and 84 per cent of students reported feeling confident that they had the tools to help manage stress and anxiety better.
The collaborative team hopes to expand the delivery of On The Level to more schools in the UK.
For further information contact: 
Written by Alina Moore, Research Communications Coordinator
Flagship institutes
The University's four flagship institutes bring together our key strengths to tackle global issues, turning interdisciplinary and translational research into real-world solutions.