Psychologists awarded for innovative project to improve pupils' mental health and wellbeing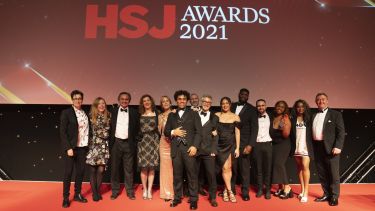 Psychologists at the University of Sheffield have received a prestigious national award for a collaborative project to support pupils returning to school following lockdowns due to the Covid-19 pandemic.
Dr Liat Levita, Natalie Bisal and Dr Jilly Gibson-Miller have been presented with the Health Service Journal's Mental Health Innovation of the Year award, along with Reprezent, a Radio Station and Youth Advocacy group, for the joint project 'ON THE LEVEL – An interactive Mental Health show for Pupils', created and led by Reprezent, supporting secondary school pupils with their mental health and wellbeing.
The show introduces young people to methodologies and tools to help them to recognise and manage their anxiety and encourages young people to interact through their phones or tablets, engaging with digital health services and actively registering for them.
Over the past year the programme has supported more than 28,000 pupils and 500 teachers with early intervention mental health support and online counselling.
Dr Liat Levita, who is leading the feasibility study of this mental health intervention, said she was delighted and honoured to have won the award.
One can not underestimate the importance of giving young people the information and tools, not just to survive, but thrive. ON THE LEVEL does just that.

Dr Liat Levita

Senior Lecturer in Developmental Neuroscience
"Reprezent's ON THE LEVEL is a peer-led mental health programme in schools and is reaching and engaging young people who often don't engage with other support. 
"As one of the incredibly talented and inspirational Reprezent's ON THE LEVEL presenters said: 'It gives the voiceless a voice.' The programme is designed to help young people understand their own emotions, and to know when these emotions are normative and when not, and what to do about the latter. 
"I am also really proud that our work and knowledge about adolescent development became a key part of the show, empowering young people to understand why they may feel the way they do at this developmental stage, and what to do about it if their feelings do get too much. 
"I feel so honoured and grateful to be working with the amazing and visionary Reprezent ON THE LEVEL team on this. We cannot wait to carry on with this project, and expand the delivery of this to more schools in the UK."
---
The ON THE LEVEL team, pictured above from left to right with Sue Perkins who presented the award: Nichola Adams, Jim Funnel, Christine Cox, Liat Levita, Jordan Wilks, Award Organsier, Scott Radnor, Annis Katrina Dale, Shemzy Raeburn, Jack Tricker, Bisola Otun, Shifa Maruthiyil, and Shane Carey.
---
A world top-100 university
We're a world top-100 university renowned for the excellence, impact and distinctiveness of our research-led learning and teaching.