We're based at Cathedral Court in the heart of Sheffield city centre. Our facilities include a state-of-the-art computer lab, seminar rooms, tutorial rooms and social spaces.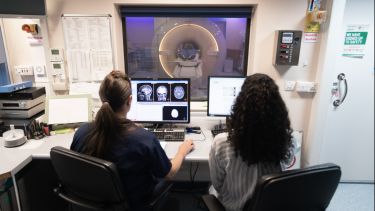 Practical teaching facilities
We have a suite of newly refurbished testing cubicles where students can use computer stimulus presentation software to run experiments as part of their own mini projects.
In workshops, you'll be trained to use the industry standard statistical analysis software SPSS, and you can get an introduction to computational modelling tools and the programming language Python.
Lecture and tutorial spaces
Lectures take place across the University campus, close to the accommodation and Students' Union.
They are recorded so you can return to them later. You'll have small group teaching sessions in our seminar rooms at Cathedral Court, so you can look at problems more closely, and there are meeting rooms you can book to work on group projects with other students.
---
Interested in studying psychology at Sheffield?
---
Research facilities
Students can access a range of tools for testing participants in their third year research projects.
This includes eye-tracking technology used in perception studies, TMS and TDCS equipment for experiments involving brain stimulation, and our state-of-the-art EEG suite for measuring brain activity.
There are also biomimetic robots, motion capture equipment and a virtual reality suite available in the University's Mappin Building.
Independent study spaces
Bookable computers are available in the department.
There are also 1,600 computers available through the University's library services, including at The Diamond and the Information Commons which are open to all students 24/7.
Explore the University
Discover why Sheffield is the right choice for you at one of our open days or events.