We invite world-leading academics to speak at a series of open seminars throughout the year, all hosted by academics within the department.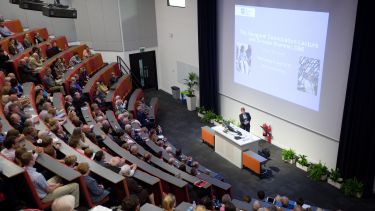 Off
Most seminars will be hosted online, with some in-person seminars stated below. Our seminars take place on Fridays, starting at 12.00pm and concluding by 12.50pm or shortly afterwards unless otherwise indicated.
For more information or a copy of the seminar programme please email psychology@sheffield.ac.uk.
Programme 2023-2024
Date
Speaker
Institution
Title
Host
Location
03/10/2023
Dr Christian Webb
Harvard University
Predictors And Mechanisms of Change in the Treatment of Depressed Adolescents
Prof. Jaime Delgadillo

Lecture Theatre 1, 

Sir Henry Stephenson Building

10/10/2023
Dr Jenny Retzler
University of Huddersfield
The neurocognitive basis of inattention in children born very preterm
Dr Megan Freeth
TBC
17/10/2023
Dr Emily Burdett
University of Nottingham
The ontogeny of human ingenuity: Exploring the factors that promote problem-solving and innovation in childhood
Dr Gideon Salter
TBC
 
 
 
 
 
 
Programme 2022 -2023
Date
Speaker
Institution
Title
Host
Location
21/10/22
Dr Lesley Uttley
The University of Sheffield
Systematic reviews and meta-analyses: how objective are they really?
Professor Tom Webb
The Diamond, Lecture Theatre 2
04/11/22
Dr Hannah Rapaport
Macquarie University, Australia
Experiencing the world differently: Understanding Autistic people's perceptual and everyday lives
Professor Elizabeth Milne
The Diamond, Lecture Theatre 2
11/11/22
Professor Wayne Gray
Rensselaer Polytechnic Institute. USA
From the Fosbury Flop to Tetris and beyond! What action games tell us about the human acquisition of expertise in complex dynamic tasks
Dr Tom Stafford
3pm - 4pm, Online
02/12/22
Dr Alessandra Souza
University of Porto, Portugal
Boosting the storage capacity and fidelity of visual working memory
Dr Caudia von-Bastian
The Diamond, Lecture Theatre 2 / Online
09/12/22
Dr Hannah Rodhe
University of Edinburgh
Informativity in cooperative communication
Dr Danielle Matthews
The Diamond, Lecture Theatre 2
10/03/23
Dr Miriam Sebold
Charité -Universitätsmedizin Berlin
Learning and decision-making of disorders from the "compulsive spectrum"
Professor Matt Field
Online
24/03/23
Dr Ana-Maria Bliuc
University of Dundee
The role of online communities in addiction recovery
Professor Matt Field
SS Teaching Room 2
31/03/23
Dr Aimee Elizabeth Pink
The Agency for Science, Technology and Research
Social anxiety and assets moderate the influence of ostracism stress on children's snack consumption:
Findings from the Growing Up in Singapore Towards Healthy Outcomes (GUSTO) Cohort.
Dr Nicola Buckland 
Online
Events at the University
Browse upcoming public lectures, exhibitions, family events, concerts, shows and festivals across the University.