Whether you're set on a specific career path, or you're still weighing up your options, during your time at Sheffield we'll help you to prepare for your next step.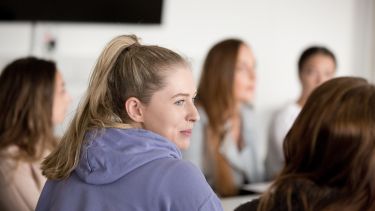 On
Throughout your research training, you'll develop valuable skills and knowledge that employers are looking for.
Our graduates tend to pursue careers in one of three broad areas: 
PhDs and research careers
Clinical training or careers in the field of psychology
Data and technology careers
You can discover what some of our recent graduates have gone on to do with their masters degrees in our student stories.
---
If you choose to continue your research training, our courses are great preparation for a PhD in a range of areas. Depending on the focus of your MSc, you could explore topics from neuroscience, artificial intelligence, and brain interfaces, to neuroimaging, health psychology and social psychology.
After PhDs, it's common to embark on a research career in academia, government or in industry. PhDs are a great stepping stone to roles such as Postdoctoral Researcher or Research Associate. A number of our graduates have gone on to begin their research careers at prestigious universities around the world, progressing to roles including Lecturer.
---
Our MScs are a great stepping stone towards a career in the field of psychology. Many of our students choose to apply their theoretical knowledge to help clients through different forms of therapy. Our recent graduates work in a variety of roles including Psychology Wellbeing Practitioner, Assistant Psychologist, Therapy Assistant, Clinical Trials Assistant and Mental Health Worker. Employers include NHS Trusts, schools, or charitable and not-for-profit organisations like Mind and Rightsteps.
Others choose to progress down the DClinSci route, gaining practical experience after their MSc before embarking on further training to pursue a clinical career in the NHS, working as Occupational, Educational, Clinical, Forensic, Health and Counselling Psychologists.
---
Data science is a growing field that's popular with graduates of our courses. With practical skills in data handling and interpretation, coupled with an understanding of the ethical implications of using data to predict and influence human behaviour, you'll be well equipped to pursue an exciting career in this area.
A huge range of industries employ data scientists. You could be interpreting market research and building customer insight for large technology and social media companies, or you could enter the finance or banking industry, working on bespoke customer solutions. Hospitals and the pharmaceutical industry employ Data Analysts, and there are also roles within deep learning, machine learning or artificial intelligence.
---
When it comes to showcasing the skills and experience you'll gain during your time at Sheffield, there's plenty of support available both within the department and from the University's Careers Service who run workshops on CV and application writing, job hunting and preparing for interviews. The Careers Service will continue to support you for as long as you need them after you graduate, too.
Weekly online events
Attend an online event when it suits you, all year round, as an alternative to an open day.
Every Wednesday, Sheffield Live sessions cover different aspects of University life. You can also meet your department and learn more about studying your subject.