The Department of Psychology is a welcoming and inclusive place to work or study.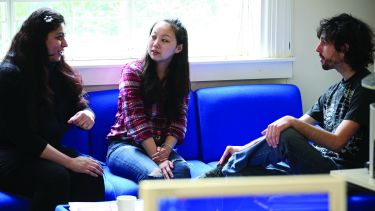 In 2015, we achieved an Athena SWAN Bronze Award in recognition of our ongoing efforts to ensure that all members of our department can excel, irrespective of background.
During the awards ceremony, special attention was drawn to our appointment of a parental champion to support staff and students who are parents, as an example of good practice.
---
Disabled applicants
We are committed to responding effectively and appropriately to individual support needs.
We take all practicable steps to ensure that disabled students can participate in their studies without disadvantage, and can make full use of the University's academic and support services. For further information read our disabled applicants policy.
---
Our beliefs
To us, equality means that all staff and student members of our department should be treated fairly and rewarded for demonstrating excellence in learning, teaching, research or in their work to support these activities.
Personal attributes such as gender, age, race or ethnic origin, sexual orientation, or disability (including mental health) should provide no barrier to an individual in maximising their potential and in receiving recognition and reward for this.
We believe our diversity is a driving force behind our position as one of the UKs leading psychology departments.
We recognise that the different backgrounds, life experiences and ways of thinking about the world amongst the members of our department are critical to the success of our learning, teaching and research activities.
---
The Equality and Diversity Committee
The Equality and Diversity Committee is responsible for ensuring all departmental activities reflect the University's and our own policies in relation to equality and diversity.
The committee is also responsible for achieving and maintaining national benchmark awards in relation to equality and diversity, such as the Athena SWAN Charter where we recently received a Bronze award.
Download a copy of our Athena SWAN bronze award (PDF, 1.19MB).
The committee meets at least once per academic semester, with work ongoing throughout the year.
Our ED&I director is Dr Liat Levita, any questions regarding ED&I matters in the Department of Psychology please do get in touch. 
A world top-100 university
We're a world top-100 university renowned for the excellence, impact and distinctiveness of our research-led learning and teaching.