Masters courses in psychology
Our taught masters programmes are great preparation for a PhD or the next step towards clinical training.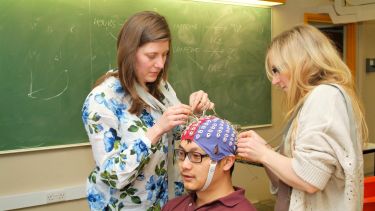 On
---
---
---
In partnership with the Department of Journalism Studies 
---
Each year we offer two bursaries to students on each of our courses. If you're awarded a bursary you'll receive a £1,500 reduction in your tuition fees. These bursaries are awarded on a competitive basis, based on:
academic performance as indicated by a grade point average and transcript
other relevant skills and knowledge (for example, programming courses outside the degree or relevant work experience)
research activity (co-authoring papers, conference presentations, etc)
personal statement, which should include information on why you want to do the course you have applied for and how it fits with your aspirations
To be considered for a bursary in the year that you intend to start your course, submit your application to study with us by 31 May. All applications received before this deadline will automatically be considered for a bursary.
Weekly online events
Attend an online event when it suits you, all year round, as an alternative to an open day.
Every Wednesday, Sheffield Live sessions cover different aspects of University life. You can also meet your department and learn more about studying your subject.