Psychosocial stress associated with skin conditions
A third of people living with long term skin conditions may experience some form of distress and stigmatisation. How can we ensure that the right support is in place to address this?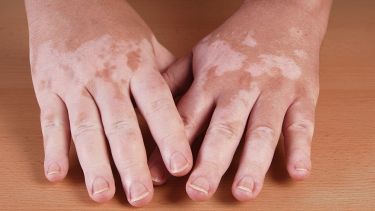 Dr Andrew Thompson is an academic at the University of Sheffield's Department of Psychology, and Clinical Psychologist in Sheffield Health and Social Care NHS Foundation Trust. He's been undertaking research to inform the development of psychological interventions to support people living with a range of conditions affecting appearance for well over a decade. That includes skin conditions such as psoriasis and scarring resulting from burn injuries as well as several other long term conditions known to have an effect on visible appearance.
For those with visible differences there are there the challenges of dealing with physical discomfort. But there is also the accompanying psychosocial stress, and in some cases stigmatisation, discrimination, or intrusive reactions from others. The challenge becomes even more difficult with the lack of support available for managing the associated psychological impact. "The needs of people with a visible difference has, for many years, been neglected or pushed to one side, and one of the biggest challenges for people living with skin conditions is to get access to psychological support. The most common issue associated with visible skin conditions are concerns about social situations." says Andrew. The result is an isolated population of people in need of support, which many are not getting.
Through his research and clinical activity Andrew has sought to fill the gap in service provision. It's not an area that's achieved the support it desperately requires. "I was part of a huge multicentre study that sort to identify the factors associated with disfigurement and this led to the publication of a unique' treatment manual," says Andrew. The manual is the first of its kind, designed for psychological practitioners to better understand the mental trauma skin conditions can cause in individuals. 
Working with numerous charities including Changing Faces, The Katie Piper Foundation and The British Association of Dermatologists, his expertise has influenced the delivery of support by both the charitable sector and services within the NHS. His research has contributed to major campaign work and to the production of online resources and has been hugely beneficial to medical staff across the UK.
"My work has raised awareness of the need for support and provided training for NHS staff in relation to the psychological aspects of skin diseases." says Andrew. Decades after first investigating the psychology side of a physical condition, Andrew is still battling to improve the lives of thousands in the UK. "I became interested in this area particularly because it's a neglected area and, while it involves both psychological and social factors, these aspects of physical disfigurement have been overlooked. People face real stigmatisation. The more I learn, the more I realise there are a lot of factors that we don't understand about the relationship between the mind and skin."
Flagship institutes
The University's four flagship institutes bring together our key strengths to tackle global issues, turning interdisciplinary and translational research into real-world solutions.