Putting Broadway under the spotlight: how disability was erased from a popular musical
Research by Professor Dominic Broomfield-McHugh reveals that producers removed a lead disabled character from one of the most popular musicals in Broadway history. His findings have sparked a debate about disability representation in musicals, both in the past and today.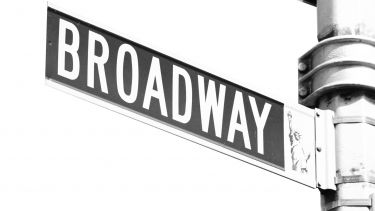 Off
Premiered in 1957, Meredith Willson's musical The Music Man was revived on Broadway in 2022 starring Hollywood's Hugh Jackman as the lead character. The production was a success at the box office, having played 374 regular and 46 preview performances by its final show, and nominated for six prestigious Tony awards, including Best Revival of a Musical.
While The Music Man is less known in the UK, it became one of the most loved musicals on Broadway in the US, even featuring Willson's song 'Till There Was You' which was later covered by The Beatles. The story is centred around con artist Harold Hill, who pretends to be a professional musician in a small town in Iowa to train members of a new boys' band before falling in love with the librarian Marian Paroo who outs his fraudulence. 
For the first time, early drafts of the play reveal that the original narrative explored the bigotry of a small community towards a character with a severe disability.
Research by Dominic Broomfield-McHugh, Professor in Musicology from the Department of Music and Chair of the University of Sheffield's Disability Staff Network, revealed that Meredith Willson initially wrote the show about a boy in a wheelchair who was cruelly taunted because of his inability to speak or walk. These research findings also expose that over a three year struggle, producers pressured Willson into changing the plot to completely remove the disabled lead character from the script.
"His idea to put a young disabled boy as the main character in The Music Man was provocative. Broadway writers of the mid-twentieth century had tried to turn their attention to important social themes of the day, but ableism had not been tackled like this before" explains Professor Broomfield-McHugh.
But would the legacy of the successful show have been different if the original version had made it onto the stage? Dominic's research has sparked new conversations about disability representation in the 1950s and whether this has really changed in today's society, over seventy years later.
Erasing a character in a wheelchair
Set in Willson's home state of Iowa, The Music Man was developed over eight years during which it went through many revisions including 22 cut songs.
Working closely with the Great American Songbook Foundation, Dominic flew out to the US to see the transcripts in person. While there, he uncovered eight drafts of The Music Man, dating from 1954 to January 1957.
The drafts revealed that until just 10 months before the musical opened on Broadway, the plot was centred around the titular music man, Harold Hill, who would integrate Jim Paroo, a boy with disabilities, into a newly formed band. While the specific reasons as to why Jim's character was fully erased from the show are unclear, Dominic unearthed letters urging Meredith Willson against using the character.
One memo states that "physical disability in a child is impossible to view in any terms but pity and sentiment, the problem is to find some other form of disability besides physical." The memo is undated and unsigned, but Dominic believes it was written in early 1957 by an employee of a producer.
Another memo, sent by leading playwrights Robert E. Lee and Jerome Lawrence, urged that the musical would not work with a leading character with disabilities. 
"This was Willson's first musical and he was receiving negative feedback from those who were more experienced in the industry. Ultimately, he agreed to follow their advice and ended up creating a successful show that would go on to run twice as long as the West Side Story and win many prestigious awards'  says Dominic.
The final version of the show involved a character with a lisp, instead of a wheelchair user, and an upbeat narrative shift to two other characters in a romantic relationship, leaning towards more conventional tropes of Broadway in the 1950s.
Meredith Willson and the rise of disability activism
At the time of writing the show in the 1950s, the US saw the start of the disability rights movement take shape. Disabled World War II veterans began to lead conversations about disability awareness and urged the government for support in making disability issues more visible. At the time, many people with disabilities did not have access to public transport, stores, office buildings and bathrooms and faced stigma from employers. Parents of disabled children started to set up charities to advocate for their rights. Yet many people with disabilities continued to face harmful assumptions and stereotypes.
Through his research, Dominic unearthed evidence of disability activism throughout Willson's personal life and career that could have impacted his decision to write a leading character in a wheelchair in the first place. 
"There is evidence that Willson had visited organisations for disabled children in the past. He also went on a concert tour when preparing for his next musical, and gave the proceeds to a disabled children's charity. While many people see him as politically conservative, my research shows that this wasn't necessarily the case. He was trying to spark a conversation about how people with disabilities were treated at the time" explains Dominic.
"Willson strongly believed that the stigmatisation of young people with disabilities was a major problem in society that needed to be challenged, and he saw this as something he could do powerfully through the medium of the Broadway musical" he adds.
Disability representation on Broadway: have times changed?
In 2021, Professor Dominic Broomfield-McHugh published the first-ever academic book on the life and work of Meredith Willson, The Big Parade: Meredith Willson's Musicals from The Music Man to 1491. 
He continues to collaborate with the Great American Songbook Foundation and is using his knowledge and expertise in anupcoming biographical documentary about Willson, directed by PBS filmmakers in Iowa. Following successful funding and the availability of the Willson collection preserved by the Songbook Foundation, the one-hour documentary with the working title Meredith Willson: America's Music Man is set to premiere this year. 
This research into Broadway and ablism in the 1950s continues to be relevant today. While there are now some actors who are wheelchair users who have had success, we still don't see enough commercial musicals that star people with disabilities. There's still such a strong tradition of musical theatre performers being athletic and looking a certain way. There are some initiatives in place for actors with disabilities but there is still a long way to go to tackle the stigmas and barriers that many people face today

Professor Dominic Broomfield-McHugh

Professor in Musicology
Written by Alina Moore, Research Communications Coordinator 
For further information contact:
Flagship institutes
The University's four flagship institutes bring together our key strengths to tackle global issues, turning interdisciplinary and translational research into real-world solutions.