Electrification, energy, and decarbonisation
Electrification and enabling alternative energy supplies are crucial to meeting climate change commitments. Our research focuses on the mechanical performance of the overhead line system, and modelling application of energy storage in rail transport networks.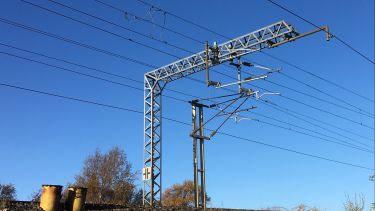 Off
As railways seek to decarbonise the challenges of electrification have risen. Wires must be routed through legacy infrastructure, and system costs must be reduced while improving service resilience. Dynamics of the pantograph to overhead line contact determine the forces at their interface, controlling wear, arcing and cracking failures. Our Tribology expertise in the behaviour of contacts is ideally placed to investigate and improve. Our electrical modelling and battery hardware research focuses on reducing peak power flows and understanding the integration of railways with the wider energy supply network.
Find a PhD
Search for PhD opportunities at Sheffield and be part of our world-leading research.