The performance of stations is a crucial aspect of passenger experience on a railway journey. Our research brings engineering and computing expertise to the challenges of station design and operation to enable better passenger experience.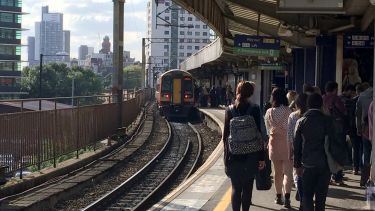 Off
As the public face of the railway stations have some particular challenges. Often designed for fewer users than they now handle our pedestrian flow modelling is being used to predict speed of movement on platforms, calculating how long timetables should allow for everyone to board and alight. During the pandemic we have adapted this work for socially distanced passengers with bespoke agent-based modelling of the platform-train interface.
A consequence of their open and accessible nature stations have also been the subject of attacks. Our work on urban design and behaviour of materials under extreme dynamic loads is providing guidance on design for safety and security.
---
Projects
RateSetter+ Passenger movement in stations during the COVID-19 pandemic
Find a PhD
Search for PhD opportunities at Sheffield and be part of our world-leading research.