Characterisation and Understanding Rail Steel Behaviour for In-Service Life Prediction
Research is underway to develop efficient lab based screening of new railway rail metallurgies to identify those with potential to reduce rail wear and fatigue in service.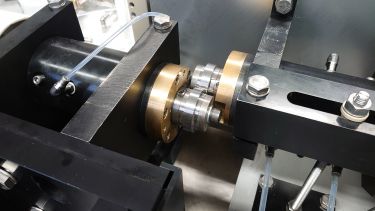 Despite advances in rail materials wear and rolling contact fatigue (RCF) cracks remain significant and costly damage mechanisms affecting the reliability and safe operate of rail networks around the world. Both damage mechanisms can be linked back to the subsurface strain accumulation that occurs due to cyclic rail-wheel contacts. Damage to in-service rails is usually kept in check through conducting rail grinding and monitoring programmes, but these can be costly and reduce the time lines are open for use.
An EngD project at the University of Sheffield funded via the Advanced Metallic Systems CDT by the EPSRC and sponsored by British Steel is working on improving the understanding of the strain accumulation and development of damage that occurs in rail steel. As rail steels are typically exposed in service to high hydrostatic compression coupled with shear stress suitable material property data has previously been generated across multiple lab tests or long term field trials. This research project is developing new methodologies for efficiently deriving rail steel material property data from limited numbers of twin-disc tests. The aim is to enable rapid screening of potential rail metallurgies to assess their performance prior to more costly and slower track based assessments.
The test methodologies developed are being trialled across a range of contact conditions and for different rail steel grades. Furthermore, this research is also exploring the behaviour of manganese sulphide (MnS) inclusion in the plastic deformation region of rail steels to understand how these influence wear and RCF damage in rail steel. As part of this research new monitoring equipment has been developed to enable to early detection and visualisation of rail surface modification during testing.
---
People involved
Mr Adam Wilby
Dr Jacob Corteen (British Steel R&D)
Find a PhD
Search for PhD opportunities at Sheffield and be part of our world-leading research.