Investigating Low Adhesion Transience
In partnership with the RSSB, The University of Sheffield is improving understanding of the conditions that create low adhesion transience.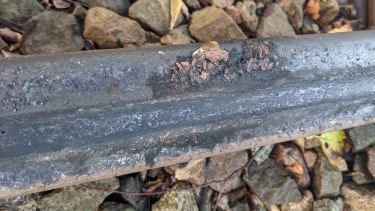 Low adhesion due to contamination on the railhead can prevent safe and efficient operation of trains. Without the required level of adhesion, braking can be unreliable and dangerous. Changes in weather or the environment around the track can sharply vary the condition of the railhead, reducing the adhesion levels. Additionally, rail traffic passing over can alter the contaminant layers that cause the low friction.  There is limited understanding of how transient the low adhesion effects are and how contaminant layers build up and break down.
The University of Sheffield is working with the RSSB on research aimed at understanding how the changing conditions around the track create transience in adhesion levels as well as the influence of rail traffic. The project aims to develop models to aid understanding of sudden changes in adhesion levels. The project also aims to understand the lifecycle of contaminant layers from creation to depletion.
---
People involved
Joseph Jaffe
Find a PhD
Search for PhD opportunities at Sheffield and be part of our world-leading research.