Wheel/Rail Interface Sanding for Traction Enhancement
Research at The University of Sheffield is currently focussed on assessing the performance in the wheel/rail interface of traction enhancing materials.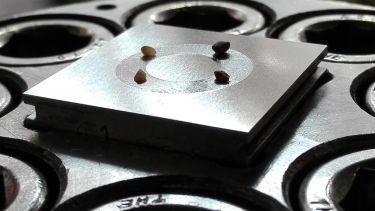 Low adhesion within the wheel/rail contact of a train is estimated to cost the British railway industry ~£345 m/annum; the loss of traction when accelerating and braking can lead to timetable delays and safety issues (e.g. signals passed at danger or in the worst case collisions) respectively. These low adhesion conditions are created by the presence of contaminants in the wheel/rail contact, such as: oil, water, water and oxides, and leaves on the line which bond tightly to the rail.
A well-established method for mitigating against low adhesion has been the on-board application of sand particles to the wheel/rail contact. As sand is an insulating material, there is the possibility it may negatively affect track circuits; sand may also create wheel/rail surface damage. However, there is currently little consensus on what makes a "good" sand for increasing traction in the wheel/rail contact, or whether sand particles are necessarily the best type of particle for mitigating low adhesion.
The University of Sheffield is currently researching the effect of varying particle characteristics with respect to a particle system's suitability for the wheel/rail sanding process. This includes projects assessing the traction, electrical conductivity, and damage of sanded wheel/rail interfaces, as well as conducting research into the entrainment of particles from the sanding system into the wheel/rail contact.
---
People involved
Find a PhD
Search for PhD opportunities at Sheffield and be part of our world-leading research.