Sheffield businesses first to receive millions from new Northern investment company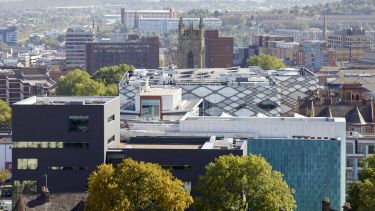 Founded to boost the commercialisation of university spin-out companies and IP-rich start-ups in the north of England, the company has made its first investments into two companies in the city after announcing a first close of £215 million in May 2022.
Northern Gritstone was founded with the philosophy of 'profit with purpose', combining attractive returns for shareholders with wider positive, societal and economic impact in the north of England.
Northern Gritstone closed its first investment of £3.3 million in Opteran, a company spun out from the University of Sheffield that has re-engineered insect brain patterns. Based on eight years of research by Professor James Marshall and Dr Alex Cope from the Department of Computer Science, Opteran is commercialising a completely new standard for machine autonomy called Opteran Natural Intelligence. This approach re-engineers insect brain patterns to solve the fundamental limitations of current state-of-the-art artificial intelligence (AI) and introduce the third wave of AI: genuine brain biomimicry. 
Northern Gritstone was also part of a £30 million funding round led by Singapore impact investment firm ABC impact in Iceotope Technologies Limited (Iceotope). Based in Sheffield, Iceotope is the global leader in precision immersion cooling technology for IT components.  Iceotope's environmentally efficient technology reduces the energy and water required to cool data centre servers and contributes toward the achievement of net-zero emissions for the data centre industry.
Iceotope is a member of the University of Sheffield Advanced Manufacturing Research Centre (AMRC), a world-leading research and innovation network with more than 120 industrial partners, including Rolls-Royce, Boeing, McLaren Automotive, Siemens and BAE Systems.
Professor Dave Petley, Vice-President for Innovation at the University of Sheffield, said: "This is a significant milestone for Sheffield and highlights the important role that the University plays in supporting innovation in our region. We have spent several years building the foundations for Northern Gritstone, and are very proud it has made its first investments in Sheffield companies that are harnessing the power of university research. We work hard to promote a culture of excellence in innovation and entrepreneurship across our University and look forward to working with partners to bring more opportunities to South Yorkshire."
Duncan Johnson, Northern Gritstone Chief Executive said: "Northern Gritstone is committed to supporting innovative businesses in the North of England dedicated to building the economy of tomorrow. There is rightly huge excitement about the innovative spin- outs emerging from our leading research universities and the ecosystems they support.
Opteran and Iceotope are world leaders in their respective areas of operation and have the potential both to revolutionise those sectors and for their technologies to become the new normal. The businesses are a testament to the innovation emerging from the University of Sheffield and those based within the South Yorkshire Region.
With continued investments to start-ups and spin-out companies, Northern Gritstone hopes to accelerate the development of a northern innovation hub with an aim ultimately to rival Silicon Valley."
Flagship institutes
The University's four flagship institutes bring together our key strengths to tackle global issues, turning interdisciplinary and translational research into real-world solutions.