TRAM: The Researcher as Manager
Expand your management skills with TRAM, a learning and reflection programme aligned to the ILM's philosophies to support your development as a manager.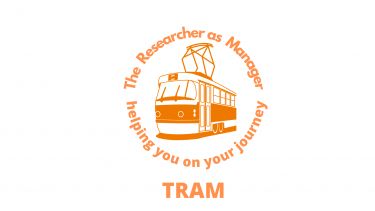 Off
About TRAM
TRAM (The Researcher as Manager) ILM Recognised Award is for staff engaged in research. 
It aims to provide an easily accessible development programme that can be completed while on a short term contract.
To gain the ILM Recognised Award for TRAM you need to:
Self-enroll onto the Module on Blackboard (under Organisations) via MUSE, where full details are available
Engage with a minimum of six TRAM sessions, including the core session, 'Managing your own continuing professional development'
Complete the reflective assignment and related CPD plan
---
An ILM recognised award
TRAM is an ILM Recognised Award (rather than a formal qualification) and is a valuable tool for developing your skills and planning how to put your learning into practice.
Having your learning formally recognised by the ILM means you can articulate to internal and external colleagues the steps you have taken to develop your leadership and management skills.
---
Video
Find out from previous participants about their experiences:
---
Current staff
Find out more about the programme, including how to register and the courses that form part of TRAM, on the Staff hub.