New ScHARR Webinar Series on Health Research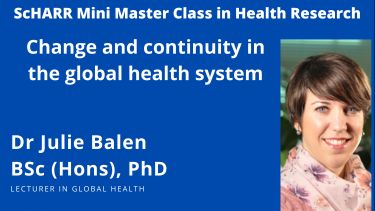 The ScHARR Mini Master Class in Health Research series begins on June 25th with Dr Julie Balen and a talk titled; Change and continuity in the global health system.
This entry-level masterclass will explore and uncover aspects of global health through an interdisciplinary and reflective lens. Taking a broad and inclusive view, we will highlight key issues in global health in the pre-pandemic phase and, together, examine how COVID-19 impacts upon local, national, regional and global level priorities in health. While the full scale of the still unfolding pandemic remains unknown, discussions will centre around major direct and indirect effects of the virus as well as the intended and unintended consequences of various control measures employed across different settings throughout the world. Is coronavirus a "tipping point" in global health and, if so, how can we make it an opportunity to build a better, more inclusive, equitable and adaptive system?
Join us as we reflect on the above and on our own contributions and concrete actions, as emerging global health practitioners, to help transform the system and together create something better as the world slowly emerges from the coronavirus pandemic.
Speaker Bio
Julie Balen is a Lecturer in Global Health at the School of Health and Related Research (ScHARR) where she leads the global health research theme and also teaches on several Master's programmes in health and development. Her current research focuses on health policy and systems issues in selected settings in South Asia and West Africa. She co-leads (with Simon Rushton) a major research project on federalisation and health in Nepal, where she has conducted collaborative research and teaching since 2013. Julie's work also focuses on how health systems engage with and address overlooked issues such as the neglected tropical diseases, or under-researched areas of sexual and reproductive health (eg. infertility, pre-term birth). She works in multi-disciplinary and international teams and has extensive experience living and working across the Global South.
The live session takes place in a Collaborate webinar - headphones are advisable and easy to set up. You can join with a computer, tablet or smartphone, Chrome and Firefox offer the best browser experience. You can also use a phone to handle audio while in the session by dialling +44 2033 189610 and entering the PIN: 398 583 2702.
We look forward to seeing you online!