New study to help A&E departments predict serious coronavirus cases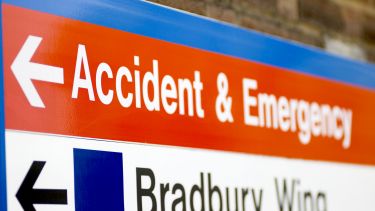 Study in collaboration with hospitals across the UK aims to optimise how patients with coronavirus are assessed and treated by the emergency care system
Research is helping to identify the most accurate triage methods for predicting serious illness or complications
Project is using patient data from the early stages of coronavirus pandemic to identify which triage methods did, or did not, predict serious illness
A new study which could improve how UK accident and emergency departments identify which coronavirus patients need to be admitted to hospital has been launched by researchers from the University of Sheffield and Sheffield Teaching Hospitals.
The study, led by Professor Steve Goodacre from the University's School of Health and Related Research (ScHARR), sponsored by Sheffield Teaching Hospitals NHS Trust, aims to optimise how patients with coronavirus are assessed and treated by the emergency care system in the current pandemic.
Launched in collaboration with hospitals across the UK, the research is examining how A&E departments and ambulance services currently predict which patients with coronavirus are likely to develop serious illness and therefore need to be admitted to hospital.
Results could help to identify the most accurate triage methods for predicting serious illness among patients with suspected coronavirus, or develop new methods that are more accurate than the systems currently used.
The study is using patient data from the COVID-19 pandemic to test how well existing triage methods predicted serious complications.
The project is collecting data from all patients presenting at participating emergency departments with suspected coronavirus. Patients will need to let hospital staff know if they do not want their data collected for the study.
The study is identifying cases where triage methods did not predict serious complications or recommended unnecessary hospital admissions.
Professor Steve Goodacre, Professor of Emergency Medicine at the University of Sheffield, said: "Our project aims to improve assessment so that the patients who are at greatest risk are admitted to hospital, while those who can safely go home are able to do so."
Researchers in the project are using hospital records to follow patients with coronavirus through the emergency care system for up to 30 days.
The Sheffield-led research team is evaluating triage methods used to determine whether a patient with a suspected case of coronavirus should be admitted to hospital or not, and is looking to develop new methods.
The results of the study may also be able to help identify which patient characteristics are associated with a higher risk of serious complications, such as age or underlying health conditions.
This study is one of a number of COVID-19 studies that have been given urgent public health research status by the Chief Medical Officer/Deputy Chief Medical Officer for England.
The project is funded by the National Institute for Health Research Health Technology Assessment (NIHR HTA) Programme (project number 16/80/08). Any views or opinions expressed are those of the authors and do not necessarily reflect those of the HTA programme, NIHR, NHS or the Department of Health.
Please visit: https://www.nihr.ac.uk/covid-19/ to learn about other studies that have been given urgent public health status and the single, national prioritisation process that has been established to prevent duplication of effort and to ensure that the resources and capacity of the health and care system to support COVID-19 research are not exceeded.
For more information on the Pandemic Respiratory Infection Emergency System Triage (PRIEST) study, including details of patient confidentiality and how patients can opt to have their information removed from the project, visit The PRIEST Study.
For a full list of hospitals taking part in the study, visit The PRIEST Study.
Flagship institutes
The University's four flagship institutes bring together our key strengths to tackle global issues, turning interdisciplinary and translational research into real-world solutions.