ScHARR academic in largest ever study on impact of TB and HIV interventions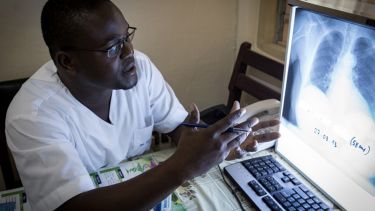 TB and HIV are the leading infectious causes of death worldwide – in 2016 1.7 million people died of TB. For people living with HIV, TB is the most significant co-infection, 40 percent of HIV deaths in 2016 were due to TB. The TREATS project [Tuberculosis Reduction through Expanded Anti-retroviral Treatment and Screening] was developed in response to this.
"TREATS is a unique opportunity to assess a combined TB and HIV intervention on a massive scale," said Dr Helen Ayles, TREATS Project Director, Professor of Infectious Diseases at London School of Hygiene & Tropical Medicine and Research Director at Zambart. "It will provide amazing data and hopefully some practical solutions to end TB. TB is a curable illness, but in order to better reach people with treatment, we need to understand the epidemiology of the disease better. This is true active case-finding."
"Globally, one person is dying every 20 seconds or so from TB, which is a curable disease," said Dr Dodd, research fellow in mathematical modelling at ScHARR. "Timely access to diagnosis and appropriate care are huge issues, and in sub-Saharan Africa, HIV is still a major driver of the TB epidemic. This is a tremendously exciting opportunity to find out at scale whether an aggressive combination going out and looking for TB cases, and really ramping up HIV prevention and treatment measures can bend the curve of the TB epidemic in some of the worst affected parts of the world."
---
We will be using mathematical models of TB and HIV transmission to interpret data from the trial: to better understand the epidemiology and also to unpick to components of the intervention and their effects. We'll be able to assess the cost-effectiveness of these interventions, project their impact if maintained over longer time frames, or if rolled out more widely, and consider what would happen in other settings or with tweaks to their configuration.

Dr Pete Dodd

Research Fellow, ScHARR
---
TREATS consortium members include: London School of Hygiene &Tropical Medicine, Imperial College London, Zambart, KNCV Tuberculosis Foundation, Sheffield University, the International Union Against Tuberculosis and Lung Disease (The Union), Health Systems Trust, Delft Imaging Systems and QIAGEN.
The EUR 12.9 million project is part of the European & Developing Countries Clinical Trials Partnership, (EDCTP2 programme) supported by the European Union.
For further information, please see the TREATS project webpages.
A world top-100 university
We're a world top-100 university renowned for the excellence, impact and distinctiveness of our research-led learning and teaching.