ScHARR Green Impact Team Awarded Silver Standard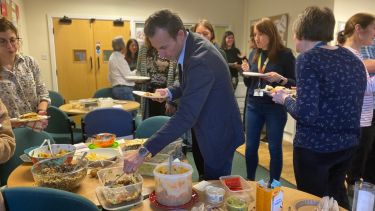 Green Impact Sheffield, run by Students Organising for Sustainability UK (SOS-UK) (formerly NUS) and delivered by the University's Estates and Facilities Management (EFM) department, awarded the Silver award to ScHARR Green Impact, for its work during 2019-20. The team, consisting of 17 ScHARR staff, met regularly during 2019-20 to look at positive ways to make a difference within the School and our impact on the environment. The team chose to focus on two areas - promoting communal eating of vegetarian food within ScHARR, and finding out more about air travel by ScHARR staff:
Veggie Together events
We held monthly vegetarian potluck lunches in the common room for staff and students to attend, to improve well-being, facilitate networking and encourage sustainable food choices. We took donations at the event for the Jubilee Food Bank in Sheffield, and circulated recipes to staff to encourage vegetarianism.
Academic Flying
The team understands the value that academic flying brings, and recognises how important international conferences and meetings are to ScHARR's work, and to individuals. To find out more about the attitudes and behaviour of ScHARR staff regarding academic flying, the team undertook an audit on existing data sets of academic flights taken by ScHARR staff flying for work purposes, and also gained ethical approval for a staff survey and some focus groups. These could not take place due to the industrial action and then the closure of University buildings due to COVID-19, but the team intend to return to them when that is possible.
Quote from Team lead, Chris Blackmore: "We are really pleased that our hard work these past few months has been recognised, and a big thank you goes to everyone who participated. This was our first year, so there was a learning curve involved in understanding how the projects could work. Despite some challenges, we made good progress in both project areas. When social distancing and hygiene issues allow, we'd like to continue with the communal vegetarian events - it's more important than ever that we engineer opportunities to both learn about sustainable food, and that we take time out of our busy working lives to meet and socialise with others. And although the pandemic has changed our ways of working and travelling, both now and maybe in the longer term, we will continue with an open, non-judgmental conversation around academic flying and its impact."
Quote from team member Donna Davis: "It is fair to say that ScHARR's first year taking part in Sheffield Green Impact was a success, despite a few bumps along the way."
Stay alert and think green!