ScHARR Students win the World Evaluation Case Competition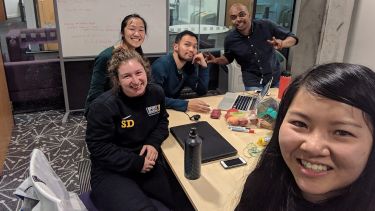 They are Tara Chen, Earl Rodriguez Cuarteros, Mohammed Albagir Ali Altayyeb, Stephanie Duncombe and Annabelle Ngachung Wong, and they represented England with Team 'KAIZN' at the 2018 Competition, held by online submission.
The competition builds on the students' studies in ScHARR and involves them analysing a case study using programme evaluation techniques. The teams have only five and a half hours to prepare a written brief or slide show to convey their understanding of the key issues in the case and their recommendations for action. The teams submit their analyses for judging by an international panel of experienced program evaluators. The top-ranked team is proclaimed World Champion.
---
This is a great achievement by our students, and we are really proud of what they have done. Benefits of the competition include; an increase in confidence, capacity to work as a team, and greater knowledge of evaluation techniques, all of which are essential Public Health skills.

Dr Julie Dickinson

Course Director of Masters in Public Health, ScHARR
A world top-100 university
We're a world top-100 university renowned for the excellence, impact and distinctiveness of our research-led learning and teaching.