Sheffield researchers receive grant to help emergency Covid care in low income countries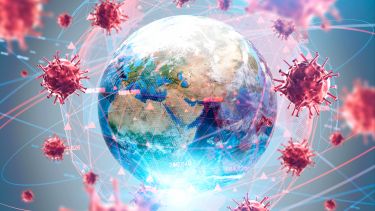 Led by Carl Marincowitz, the team will develop contextually appropriate risk assessment tools which enable emergency clinicians in different income settings to quickly decide whether suspected Covid-19 patients need emergency care or can be safely treated at home. Rapid, transparent and reproducible triage will help prevent hospitals being overwhelmed.
Carl Marincowitz, from the University of Sheffield's School of Health and Related Research (ScHARR), said:
"I am delighted for our team both here and at the University of Cape Town. The grant will help support a collaboration full of potential and address an extremely important clinical issue in emergency care across the world during the pandemic"
"To develop the tool we will use existing data on 50,000 Covid patients from the UK, South Africa and Sudan to create prediction models for Covid-19 outcomes across all income settings and receive input from patients and clinical stakeholders. These models will help clinicians to identify the right level of care and services for patients."
The grant has been announced today by the International COVID-19 Data Alliance (ICODA) and the Grand Challenges initiative as part of ten global projects that will accelerate knowledge of COVID-19 through data science.
These projects will address urgent research questions relating to the ongoing pandemic using innovative data science approaches and seek to have rapid impact on the health of communities across the world.
These projects were identified following a global funding call launched at the end of 2020 with the support of the Bill & Melinda Gates Foundation and Minderoo Foundation and Microsoft's philanthropic AI for Health program.
The projects have global reach and involve researchers in 19 countries with a particular focus on low- and middle-income countries including Brazil, Colombia, Rwanda, South Africa and Uganda.
Steve Burnell, COVID-19 Response Lead, Minderoo Foundation said:
"Minderoo Foundation is pleased to support this Grand Challenge initiative focused oncritical COVID-19 related research questions. The selected projects, leveraging high quality data and evidence with support from ICODA, all have the potential to progress innovative, scalable solutions to these challenges and accelerate impact."
Steven Kern, Deputy Director of Quantitative Sciences, Bill & Melinda Gates Foundation said:
"This cohort of research projects will take forward the core aims of the Grand Challenges initiatives, using innovative, collaborative approaches to address urgent research questions on the current pandemic. The wide geographical scope and engagement will help build a global community of researchers focused on global health and data science."
As well as the direct research benefit of these projects, this programme will contribute to the development of a global community and ecosystem to support health data science research coordinated by ICODA.
ICODA is a globally coordinated data-led research response to tackle the COVID-19 pandemic, convened by Health Data Research UK, the UK's national institute for health data science. In addition to funding to support their research, award holders will have access to resources, technology and processes from the ICODA team and its partners, as well as opportunities for collaboration across a global research community.
Professor Andrew Morris, Director of HDR UK and Chair of ICODA, said:
"The scientific quality and relevance of the Grand Challenges ICODA research projects are exceptional, and they have the potential to have a fundamental, global impact on the current pandemic. This is a significant step forward for ICODA, and I'd like to thank everyone who has contributed to the development and roll out of the pilot initiative."
Flagship institutes
The University's four flagship institutes bring together our key strengths to tackle global issues, turning interdisciplinary and translational research into real-world solutions.