#SuperVisionaries at ScHARR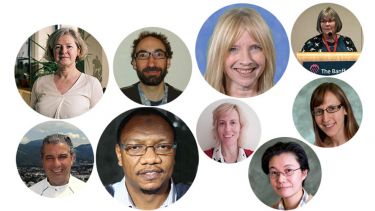 They led a project called #SuperVisionaries to find out about and share examples of good supervision and its impact on doctoral researchers. The Think Ahead team asked all the doctoral students at the University of Sheffield to tell them who was doing a great job and making a difference, and received over 200 responses!
We are delighted to say that several ScHARR staff were included in the responses under the categories (follow "Category" links for full nominations).
---
At Think Ahead, we recognise that supervision is a complex and difficult practice and yet is a key influencer of doctoral success. And in academic life, we don't tend to celebrate the positives often enough, and good supervision frequently goes unrecognised, and without thanks

Dr Kay Guccione

Mentoring Consultant, Research Services
---
Dr Guccione commented, "It's important to recognise that there are reasons a great supervisor may not have been recognised, and that there are excellent supervisors in ScHARR who are not featured here. Awareness of the project might not be uniform across all PGRs, or perhaps student-supervisor teams are in the regular habit of saying thanks to each other personally, rather than anonymously."
So whilst there will be other examples of excellence in supervision that were not put forward for this project, it is great to see so many supervisors and professional services staff recognised for their hard work in supporting students.
Alicia O'Cathain
Alicia is the perfect supervisor. She knows methods, the PhD process and the subject matter to a high standard. But far more than that she is reliable, honest and helps you develop and produce something beyond what you thought you could manage. She always responds to queries in a timely manner and will give you honest and clear feedback. She builds up a great rapport with students so you feel you can be open about how things are going and if you are struggling. I am very lucky to have her as a supervisor.
Steve Ariss
I felt respected as an equal, guided as a student, supported as a colleague, and included/ involved in things that opened my horizons. I felt valued even when I couldn't bear to read my own work. I felt practically supported - primarily in terms of the academic context/ rules/ regulations, etc., through his knowledge of the system. I felt that I could 'have' and could 'be' and develop and shine. He encouraged and supported me. And I grew as a researcher, as a confident person and was not demolished by the major changes that I struggled to make to the thesis. Through his timely responses to my PhD needs, I developed a better sense of 'urgent' and 'important'. One of those professional relationships that 'thank you' seems like a tiny phrase in relation to the importance of what has been received.
Suzy Paisley
I had been passively thinking about doing a part-time PhD for several years, and was scouting for the right supervisor. I shortlisted several potential supervisors in universities located in various countries. The first time I met Suzy was during this time; we both happened to be attending the same conference in Vienna. As soon as I had spoken with Suzy, I knew that I would like to work with her. I had a feeling that it would be possible to build a meaningful relationship with her that is both supportive and challenging, and have not been disappointed!
Janet Harris
Janet is a brilliant supervisor. One of her key skills is her breadth of knowledge of the topic and literature, you can be discussing any idea and she will know the researchers or literature in the field for you to follow up with. She also provides very useful and clear feedback. As a supervisor she is reliable and trustworthy, which helps make the process a lot less stressful if your supervisors respond promptly to queries.
Steven Julious
Steven always supports me, not only in my PhD project but in all other aspects. It really nice to have a supervisor that understand all the circumstances in your life and try to help you as much as he can. I am lucky to be his student.
Muhammad Saddiq
Muhammad is a very enthusiastic person, supportive and patient. His dedicated time and efforts to teach and help are very appreciated. Honestly, he has never disappointed me whenever I asked for help!
Category 2: Supporting wellbeing
Aki Tsuchiya
Aki is the most dedicated academic I have ever known. Her enthusiasm in research has motivated me a lot to overcome different challenges. Supporting me from the moment I started my application till now, I believe that no-one can be as careful and caring as her towards students' performance and development. What really makes me feel safe and trust her is that I know whatever happens, she is always there willing to support me as much as she can. As an international student, I have been struggling with not only language barriers but differences in culture and working environment. Aki backs me up with valuable advice on my work-life balance, career orientation and adaptation to new environment. She has stood by me and encouraged me to develop my strengths, and to be creative. I am so thankful to know that she is always there to push me, and to tell me 'well done' whenever I have done something right. It may sound very simple, but I strongly believe that acknowledging students' effort is very important to keep their good mental health.
Steven Julious
I really appreciate Steven's support during the long journey of my thesis. I am part time, remote study student with a full time job. In the last 7 years of my PhD, I have had 4 jobs in 3 countries and lost some family members. Steven has been extraordinarily supportive, flexible and patient. Like most PhD students there have been times where I think I wouldn't finish but Steven has been there to motivate (usually with a terrible joke!).
Category 3: Unofficial supervision
Kirsty Tolmay
I can't express my appreciation and gratitude for the most supportive and helpful PGR administrator. Since the first day of my PhD journey, she has been super helpful and supportive! Thank you Kirsty!
Katy Cooper
Katy is my personal tutor, and she is amazing! Whenever I asked for help she responded quickly and on time. I met here more than once and every time she addressed all issues and found solutions for them! Thanks Katy!
Click here for more information on the project. 
A world top-100 university
We're a world top-100 university renowned for the excellence, impact and distinctiveness of our research-led learning and teaching.