Talk Public Health Podcast launches rebranding for new season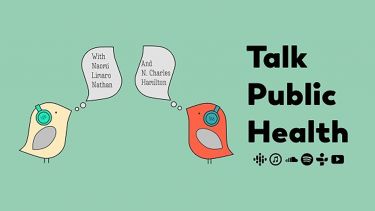 TPH was originally a School of Health and Related Research (ScHARR) student project that was started in March 2019 by then-students Naomi Limaro Nathan and N. Charles Hamilton, supported by their classmate, Anny Yuanfei Huang (all students from ScHARR's Europubhealth+ cohort of 2017-2019).
Since their graduation, the TPH team was successful in obtaining funding from the Association of Schools of Public Health in the European Region (ASPHER) to make their show bigger and better for the next season. TPH's ability to captivate a wide audience ranging from the general public to academics in sub-specialised areas of public health was instrumental in securing funding from ASPHER and in attracting attention from public health practitioners who wish to be featured on the program.
The podcast features engaging, friendly discussions on a variety of topics ranging from self-care for public health practitioners to the impact of Brexit on public health. The pilot season, which aired between March and June 2019, can be found on YouTube. Additionally, it has gained an international, multi-continental audience base, and active audience participation through online polls.
However, the TPH team are not people known to rest on their laurels. True to form, they have promised that the new season will be even better, featuring a more diverse range of topics. They will welcome diverse opinions, a wider range of dissemination platforms, a slicker production, and even a parallel research project. To coincide with the release of their season trailer, the TPH team is announcing their new look.
In addition, the team can be found on Facebook, Instagram, LinkedIn, and Twitter.
Check them out, hit subscribe, and watch what the Europubhealth+ family can do! 
A global reputation
Sheffield is a research university with a global reputation for excellence. We're a member of the Russell Group: one of the 24 leading UK universities for research and teaching.