University of Sheffield part of new £3.4 million health data initiative to address major health challenges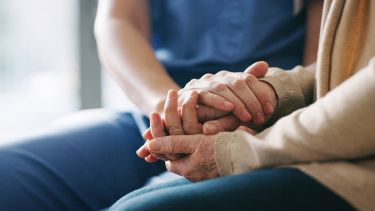 The Better Care North Partnership aims to improve care and services for patients, in particular some of the most vulnerable patient groups
The partnership is a collaboration between 15 universities and hospital trusts across the north of England
Health Data Research (HDR) UK has announced today (29 April 2020) £3.4 million of funding for the Better Care North Partnership (HDR UK North), which includes a £1.2 million investment from HDR UK and £2.2 million from the partner institutions.
The initiative aims to improve the care and services for patients by supporting the better use of data and analytical tools and includes projects that aim to benefit some of the most vulnerable patient groups.
Professor Suzanne Mason and Professor Peter Bath, from the University of Sheffield's School of Health and Related Research (ScHARR) and Information School, will help lead projects in the partnership. Professor Mason will also be an Associate Director of HDR UK North.
Professor Mason said: "This is a fantastic opportunity to ensure the ground-breaking research we undertake at the University of Sheffield and amongst our Northern partners is recognised and contributes to the HDR UK family.
"We are delighted to have our work recognised in this way, and are excited about the opportunities for future working within HDR North, but also the greater opportunities this presents for working nationally with other HDR partners on key health and social care issues that will deliver better outcomes for our population."
Professor Peter Bath, who will jointly lead the cross-cutting training theme of the partnership, said: "This is a very exciting opportunity for research at the University to become part of the HDR UK programme of work and contribute to the HDR North partnership. I think it will lead to many more opportunities to utilise innovative methods of health data storage, linkage and analysis to improve health service delivery and to improve health and well-being in the population."
One of the major challenges for the partnership is addressing the issue of frailty - an area of unmet clinical and social care need that affects 10 per cent of people aged over 65, rising to 25-50 per cent of people aged over 85 years. This accounts for £15 billion of expenditure in the UK and is likely to have a growing impact due to the UK's ageing population.
The partnership will initially focus on improving monitoring of residents in care homes to detect deterioration, reducing the burden of use of anticholinergic medicines, and optimising prescribing of antibiotics, thereby reducing the potential for antimicrobial resistance.
Fifteen organisations from across the North of England are involved in this partnership, which will be co-ordinated by a team of researchers from the University of Liverpool led by Professor Sir Munir Pirmohamed, the David Weatherall Chair of Medicine, NHS Chair of Pharmacogenetics at the University of Liverpool, Director of the Medical Research Council Centre for Drug Safety Science and Wolfson Centre for Personalised Medicine.
Flagship institutes
The University's four flagship institutes bring together our key strengths to tackle global issues, turning interdisciplinary and translational research into real-world solutions.