Rehabilitation and Assistive Technology Research Group
Our vision is to transform the ways in which people are enabled to live well and age well through the application of ubiquitous and personalised technology.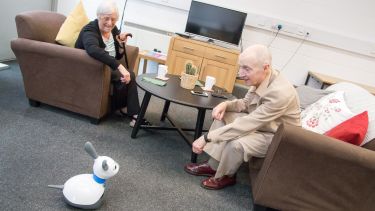 On
---
Rehabilitation helps to maximise functioning and support independence. 

World Health Organisation
---
For more information about our multi-disciplinary research and evaluation of assistive technologies and connected healthcare, take a look at our external sites:
---
Our group hosts conferences, talks and public engagement events, to find out about these please follow the links below:
---
We have a simulated home environment that can be used for research and PPI events.
---
Dr Jo Blackburn
Dr Kate Fryer
Dr Stephen Potter
---
Name
Supervisor(s)
Project
Email
Matt Bennion

Abi Millings

Roger Moore

Stephen Kellet

Gillian Hardy

Affective computing to support good mental health in later life
M.Bennion@sheffield.ac.uk
Emma Broglia

Michael Barkham

Abi Millings

A feasibility trial of the effectiveness and impact of counselling in universities and/or colleges of further education
elbroglia1@sheffield.ac.uk
David Clayton

Alan Walker

Peter Cudd

Loneliness and social isolation of older people and the role of technological interventions to overcome this.
dcclayton1@sheffield.ac.uk
Nicola Crook

Rebecca Palmer

Danny Hinde

Intensive language action therapy: a pilot and feasibility trial of intervention delivery on the NHS
nkcrook1@sheffield.ac.uk
Becky Field

Gail Mountain

Lizzy Coates

Psychosocial interventions for people living with mild to moderate dementia and their family carers: can readiness to engage be recognised?
b.field@sheffield.ac.uk
Madeleine Harrison

Rebecca Palmer

Cindy Cooper

Evaluating the implementation fidelity of self-managed computer therapy for aphasia post-stroke and exploring the factors associated with adherence
Mark Jayes
 
Facilitating the inclusion of people with acquired communication disorders in decision-making: Development and evaluation of a tool to support mental capacity assessment and provision of accessible information.
mark.jayes@sheffield.ac.uk
Phil Joddrell
Sarah Smith
AcTo Dementia
pmjoddrell1@sheffield.ac.uk
Bahman Mirheidari

Heidi Christensen

Phil Green

Stuart Cunningham

Automatic analysis of speech and language for detecting signs of dementia
bmirheidari2@sheffield.ac.uk
Louise Newbould

Mark Hawley

Gail Mountain

Steve Ariss

Videoconferencing for remote health care provision of older adults in care homes
lknewbould1@sheffield.ac.uk
Zahra Ommani

Mark Hawley

Heidi Christensen

 
zommani1@sheffield.ac.uk
Siddharth Sehgal

Stuart Cunningham

Roger Moore

Optimal strategies and enhancing state-of-the-art modelling techniques for dysarthric speech recognition.
s.sehgal@sheffield.ac.uk
---
---
Flagship institutes
The University's four flagship institutes bring together our key strengths to tackle global issues, turning interdisciplinary and translational research into real-world solutions.