Scholarship of Learning and Teaching
Our group conducts research into learning and teaching to improve the way that we prepare students for positions of senior responsibility in health practice, research and training.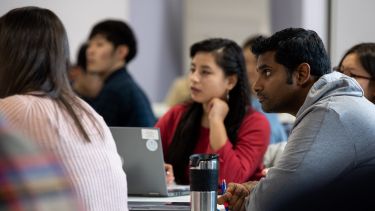 The Scholarship of Learning and Teaching (SoLT)  research theme brings together a multidisciplinary group of academics conducting research related to teaching and education across ScHARR. We meet regularly to discuss new and existing research projects.
ScHARR is one of the largest postgraduate teaching departments in the University with over 300 students in a range of taught and research programmes. Our vision is to create a world-respected source for pedagogical research that transforms our students' learning experience. The SoLT research group aims to support our understanding of learning and teaching practices, conducting, evaluating and sharing research on learning in public health and related areas. We support staff to reflect, develop, and improve their practice, making a real contribution to the student experience and putting ScHARR at the forefront of best practices.
We recognise the role that technology can play in advancing a forward-looking education that allows students to mobilise knowledge to advance the critical reasoning essential to tackling the health challenges of our time. We continuously evaluate different technological solutions in our teaching and develop effective knowledge mobilisation and critical reasoning teaching and learning activities.
Theme Leads
Lead: Dr Hannah Jordan 
Deputy: Dr Muhammad Saddiq 
Flagship institutes
The University's four flagship institutes bring together our key strengths to tackle global issues, turning interdisciplinary and translational research into real-world solutions.