Our postgraduate community
As a research student you spend a significant amount of time focusing on your individual research interests. However, you are also a member of a vibrant and supportive postgraduate research community.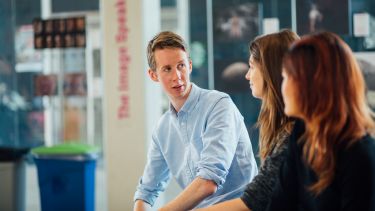 Research seminars and conferences
We encourage you to get involved in our programme of research seminars, which span the breadth of our research themes. 
Other opportunities include presenting your work in student seminars, attending conferences (both within the Faculty of Arts and Humanities and outside the University), and running or co-directing your own WRoCAH AHRC-funded research projects. Current and former students have launched projects such as Hidden Perspectives and The Gothic Bible Project.
---
Doctoral Development Programme (DDP)
The Doctoral Development Programme (DDP) is a flexible training plan for all doctoral researchers. It helps you progress through your research studies by identifying your existing skills and providing opportunities to further develop your skills and experience. 
About the Doctoral Development Programme (DDP).
---
Postgraduate Students' Society
The Postgraduate Students' Society (PGSoc)  is an interdisciplinary society run by postgraduate students, for postgraduate students. They host an events, trips, socials and other activities to enable you to meet your fellow postgraduates and settle into life at the University of Sheffield.
Postgraduate Students' Society
---
Journals and reading groups
Track Changes is a postgraduate run inter-disciplinary journal which celebrates the talent and diversity to be found within the Faculty of Arts and Humanities at the University of Sheffield. It promotes publication by postgraduates of all levels and early-career academics within a year of finishing their doctorate. Each issue is planned around a theme.
The Faculty of Arts and Humanities is also home to many postgraduate-run reading groups and discussion forums, all of which are active in organising their own events and, in some cases, conferences. 
---
Students' Union
The Students' Union is at the heart of the campus and student life. It is run by eight student officers, who are elected by the student population each year. Whether you're interested in joining a society or starting your own, volunteering, sport, trying something new with Give it a Go, or just grabbing something to eat or drink, the Students' Union is the place to go.
A world-class university – a unique student experience
Sheffield is a research university with a global reputation for excellence. We're a member of the Russell Group: one of the 24 leading UK universities for research and teaching.