Deepen your understanding of the Bible in a variety of settings and contexts. You'll study in a truly interdisciplinary environment, experiencing a variety of fresh perspectives and learning from researchers at the cutting edge of their fields.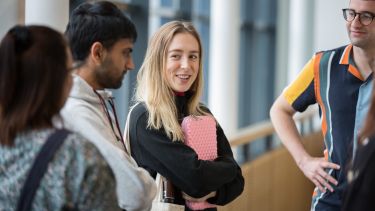 Off
We offer opportunities to study religion and the Bible in more depth as part of our Philosophy MA. Through innovative teaching, you'll develop the skills to engage with current biblical research in a way that is tailored to your personal interests. 
Our graduates go on to work in a huge variety of fields all over the world, including research in the arts and humanities, teaching, writing, editing and publishing, journalism and the media. Masters study is also the ideal preparation for MPhil or PhD study, if this is your goal. 
---
Funding opportunities
Heinz Cassirer Postgraduate Legacy Fund
Applications are now welcome for the Heinz Cassirer Postgraduate Legacy Fund. £1000 is available for a new MA or PhD student interested in carrying out further research on any aspect of interdisciplinary biblical studies, with an emphasis on 'translation' — how are biblical texts made accessible in new formats, genres, and contexts? While applications that focus on translation from one language to another are welcome, SCIBS is particularly interested in proposals that re-envision what translation can mean in creative, interdisciplinary ways.
Heinz Cassirer (1903-1979) was a Jewish philosopher who became interested in the New Testament. He taught at the Universities of Glasgow and Oxford. His work explored the notion of evil in Kantian thought as well as the rhetorical methods employed by Paul in his letters. Cassirer translated the New Testament himself, exploring the intersection of Classical philosophy, biblical studies, and the influence of different cultures in the text, especially the New Testament as a Jewish text. Cassirer's legacy donation to the Sheffield Centre for Interdisciplinary Biblical Studies enables us to nurture his interdisciplinary approach to biblical studies, and to enable students to carry on his legacy of translation.
Proposals for funding will be considered until 1 June 2020. For more information, please email siibs@sheffield.ac.uk
Henry Stephenson Endowment Trust Grants
The Trustees of the Sir Henry Stephenson Endowment Trust for taught and research Post Graduate education encourages applications for financial support from:
Undergraduate students enrolled at the University of Sheffield who wish to undertake postgraduate study in religion at the University.
Graduates of the University training for ordained ministry in the Church of England (or continuing their ministerial education) who wish to undertake postgraduate study in religion at the University.
Applications for funding are welcome from those undertaking one year full-time or two years part time study at Masters level.  Where possible, the trust will guarantee funding for the normal duration of the degree. Awards vary, but are in the range of £1,000 per year for full-time students or £500 per year for part-time students.
Applications for support for MA/PhD studies for a longer period may be considered in exceptional circumstances, but an enquiry to the chair of the funding group is necessary in the first instance. Please write to Rev Dr Jeremy Clines at j.clines@sheffield.ac.uk for further details.
Applications for awards are to be submitted by one of two deadlines: 15 December for studies beginning in the Winter/Spring and 15 May for studies beginning in the Autumn.
Weekly online events
Attend an online event when it suits you, all year round, as an alternative to an open day.
Every Wednesday, Sheffield Live sessions cover different aspects of University life. You can also meet your department and learn more about studying your subject.