AHRC Research Fellowship to explore early protestant communities in Korea.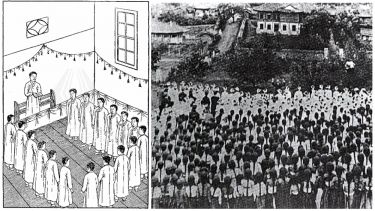 About the Project
Titled 'Pacific Voicings: Korean Hymns and Prayers in the Age of Empires, 1884-1945', Hannah Chang's project is an in-depth historical exploration of early Protestant communities in Korea. It brings together perspectives of different fields and disciplines such as musicology, sound studies, Korean studies, religious studies, and history to offer a sensuous, everyday account of religious transculturation. 
What kinds of religious activities did the American missionaries promote in Korea? Why?
How did Koreans of different backgrounds experience and appropriate forms of voicing introduced by the missionaries?
How can we theorise the relationship between colonialism and vocalisation by building on an illustrative case of colonial-modern Pacific history?
The dissemination and practice of Christianity were banned in Korea until the late nineteenth century, but by the end of the twentieth century Protestant Christianity was the most popular religion in this country. The seeds of what has been dubbed "the Korean miracle" were planted by Anglo-American missionaries from the United States, who took on months-long voyages to reach Korea from the 1880s to the 1920s. This research project aims to provide a fuller account of early Christian life in Korea. It not only examines the cultural projects of North American missionaries in Korea, many of which were part of the Pacific expansionism of the United States, but it also seeks to explore the ways in which Koreans experienced, appropriated, and renegotiated the 'new' religion as actors by reassessing Korean Christianity through the lens of singing and praying. The missionary community in Korea sought to recreate Western-style songs (e.g., hymns, children's songs, choral music) and improvised prayers as everyday religious practice among Koreans. For them, hymn singing and audible prayers were signs of personal authenticity and social intimacy, privileged values within late-nineteenth-century American evangelicalism. Missionary and Korean Christian writings from the 1890s to the 1940s tell us that many Korean Christians embraced these vocal practices as they participated in an expanding range of religious and para-religious meetings, including tent revivals, bible studies, school rallies, music concerts, Sunday school sessions, and mutual aid gatherings. My research project will provide a comprehensive documentation of singing and praying at these activities. It will explore how the new vocal forms practised in these activities were shaped by local experiences of Pacific colonialisms (pertaining to Japan and the United States primarily) and by existing socio-cultural heterogeneity. As Pacific empires exerted more influence on Korea (and elsewhere in the Asia Pacific region), local discourse and practice surrounding what it means to be a person and a community also changed. Thus, the project is a case study that explores the relationship between everyday rituals of religion and local experiences of modern Pacific empires.
Research Activities and Impact
As part of the project, Hannah Chang will conduct archival research in South Korea and the United States, work on a series of publications, and organise an international conference titled "Sonic Transformations in the Pacific World" and a concert at the University of Sheffield. Her project, by developing an alternative, cross-disciplinary model for analysing religious missions, hopes to open new theoretical and methodological questions not only for historians of Christian missions in Korea but also for historians of missions across the globe. It will be especially useful for those who wish to draw on different language archives in examining religious missions in colonial contexts. It also seeks to engage the public on issues surrounding difference, religion, colonialism, and music by making contributions to public-facing media and venues.
Read more about Dr Chang's research and teaching activities within the School of East Asian Studies