New era of leadership in SEAS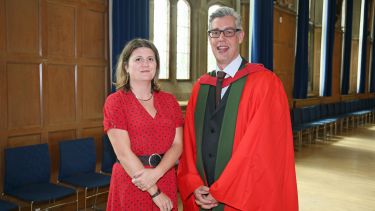 Professor Hugo Dobson:
"It's hard to believe that by the time I step down as Head of School in Summer 2019, it will have been six and a half years since I was appointed. The day I was interviewed for the position was also the day my wife and I learned that our first child was on her way.
So, we braced ourselves for a lot of change and in many ways my experience as Head has been wrapped up with my experience of parenthood.
One thing I will look forward to after stepping down is a good night's sleep and the opportunity to get to work on two very different book projects on the history of the Group of 20 summit and the role of former prime ministers in Japan.
I'm delighted to be handing over the reins of the headship to Kate. With her enthusiasm and limitless energy, I'm sure she will provide excellent leadership to a group of hardworking and dedicated colleagues."
---
Dr Kate Taylor-Jones:
Kate joined SEAS in September 2015 as a Senior Lecturer in East Asian Studies and teaches on a number of East Asian culture modules at both undergraduate and postgraduate level along with supervising a number of talented PhD students. Her research expertise lie within film studies, history, gender and sexuality studies and visual culture.
Since joining SEAS she has played an active role in our East Asian Text and Culture research cluster, organising a number of cultural events across the city of Sheffield including the successful Japan Now North festival in both 2018 and 2019.
She has also produced a number of highly rated research articles and books during her time in SEAS including her most recent book 'Divine Work: Japanese Colonial Cinema and its legacy' which has been featured in the University of Sheffield Authors showcase.
"I am delighted to be taking over as Head of School. I feel privileged to have been chosen to continue to build upon the success the School has already achieved under the leadership of Professor Hugo Dobson.
"Since I arrived in 2015 I have seen SEAS grow from strength to strength and, in this last year alone, we have celebrated success across a wider range of activities including research, grant capture, teaching and successful knowledge exchange activities.
"In the next few years, I will focus on supporting my colleagues to develop and expand SEAS's achievements. 2019 sees SEAS commemorate forty years of Korean Studies here in Sheffield.
"This is an incredible milestone that we will celebrate. With our amazing Korean Studies team, including two new anniversary lectureships, we can look forward to the next 40 years of Korean Studies here in Sheffield!
"In this current educational environment, we must seek to support both staff and students in achieving their best and feeling part of the wider SEAS community.
"The needs and role of the students are always paramount within SEAS and, with the introduction of the new undergraduate curriculum and growing postgraduate numbers, I look forward to working with students to enhance their learning opportunities and experiences here at SEAS.
"I feel that it is important for students to have a voice and, as Head, I will always allocate time to listen to student thoughts about the school and their experiences with us."
A world-class university – a unique student experience
Sheffield is a research university with a global reputation for excellence. We're a member of the Russell Group: one of the 24 leading UK universities for research and teaching.