Philip Leverhulme Prize for Dr Jennifer Coates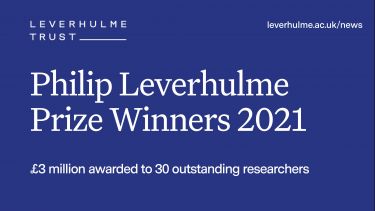 The Prize
Chosen from over 400 nominations, the Trust awards £3 million to 30 outstanding researchers across the UK. Five prizes are offered in the following subject areas: Classics; Earth Sciences; Physics; Politics and International Relations; Psychology; Visual and Performing Arts.
Now in its twentieth year, this scheme commemorates the contribution to the work of the Trust made by Philip, Third Viscount Leverhulme and grandson of William Lever, the founder of the Trust. The prizes recognise and celebrate the achievement of exceptional researchers whose work has already attracted international recognition and whose future careers are exceptionally promising. (information taken from leverhulme.com)
About the research
The Philip Leverhulme Prize will support a new research project titled "Personifying Japan: Celebrity, Star Persona, and Curatorship in the Transmission of Japanese Arts and  Cultures." In this era of celebrity politics, when a number of world leaders have formed public personae through visual media and performance (for example, reality television and social media), it is key to the development of a new media literacy that we learn how to recognise the operations of constructed public personae on national representations. Understanding the formative processes behind the public personae through whom the story of a nation, political moment, or historical event is told will help us to recognise how claims to power and authority are constructed, and thereby better judge their merits.
With its long history of leveraging the visual and performance arts for political and global influence (for example, "Soft Power"), studying Japan can contribute significantly to this learning process. This interdisciplinary project investigates the operations of persona in the representation of Japan communicated through visual and performing arts, from the 20th century into the present. In certain areas of the visual and performing arts such as cinema, television, and high art, persona is a formative aspect of production, marketing, criticism, reception, and distribution. Yet in other areas the role of persona is obscured in order to create the impression of objectivity in the dissemination of a 'true' Japanese culture, for example, in curatorial practice or in art criticism. I will investigate a series of case studies encompassing cinema history, photography, contemporary museum curation, food culture, and digital arts and culture, to map how persona shapes our understanding of Japan.
Read more about the prize and all the winners here