Supercorporate, Mike Prentice's Book Release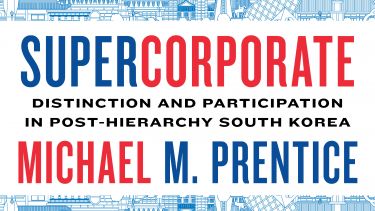 We are delighted to announce the release of Mike Prentice's book which focusses on South Korean offices in a post-hierarchical world.
Dr Mike Prentice is a lecturer in Korean Studies, here at the School of East Asian Studies. He is trained as a linguistic and cultural anthropologist.
Read the blurb below
What should South Korean offices look like in a post-hierarchical world? In Supercorporate, anthropologist Michael M. Prentice examines a central tension in visions of big corporate life in South Korea's twenty-first century: should corporations be sites of fair distinction or equal participation?

As South Korea distances itself from images and figures of a hierarchical past, Prentice argues that the drive to redefine the meaning of corporate labor echoes a central ambiguity around corporate labor today. Even as corporations remain idealized sites of middle-class aspiration in South Korea, employees are torn over whether they want greater recognition for their work or meaningful forms of cooperation. Through an in-depth ethnography of the Sangdo Group conglomerate, the book examines how managers attempt to perfect corporate social life through new office programs while also minimizing the risks of creating new hierarchies. Ultimately, this book reveals how office life is a battleground for working out the promises and the perils of economic democratization in one of East Asia's most dynamic countries.
Flagship institutes
The University's four flagship institutes bring together our key strengths to tackle global issues, turning interdisciplinary and translational research into real-world solutions.