SLC student Morgan McArthur wins global youth award "Top Talents Under 25"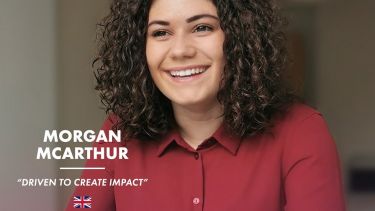 Top Talents Under 25 is an annual global award which recognises outstanding young people who demonstrate exceptional leadership qualities and the willingness to drive change. There are 8 categories of Top Talents: Innovation, Entrepreneurship, Management, Digital, Society, Diversity, Social and Education, and there are 5 global winners in each category. This year, the awards received applications from over 47 countries, with a total of 40 winners across 21 countries, ranging in ages from 17 to 25.
I'm truly humbled and over the moon to have won this award, and I'm very thankful to everyone who has given me opportunities to further my passion within shaping education and young people in leadership.

The other awardees are incredibly inspirational and driving change in almost every sector, ranging from national and international business start-up CEOs to developers and analysists in climate change and space. Although we're all specialising in different areas, it's been fantastic to find that we connect in so many aspects, as young people who are passionate and enthusiastic about making our global society more inclusive, accessible and intuitive. 

I've already been in contact with the other awardees, and COVID-19 dependant I'm hoping to meet them next year in Berlin for our in-person awards ceremony. I'm really looking forward to working with the other talents on future projects which put youth voices at the heart of change, especially within education on local, national and international levels.
Throughout her time at university, Morgan has represented youth change on national and international levels, notably through her work and volunteering with the National Citizen Service. From this award, Morgan joins a network of global experts in change, specialising in international development where it's most needed driven by Generation Z.