Ten reasons to study languages at Sheffield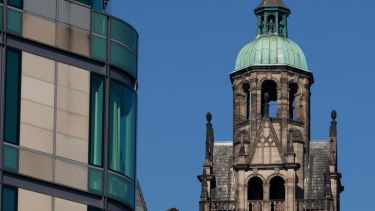 1. Study at one of the best universities in the world
The University of Sheffield has been named one of the best universities in the world and top 13 in the UK in the QS World University Rankings 2018, reaffirming its position as a leading global university for teaching and research.
2. Excellent career prospects
Language degrees get you jobs. Employers value language graduates because they need multilingual staff at all levels in the workforce but also because of the wealth of transferable skills language graduate bring with them. Sheffield's focus on a rounded curriculum ensures that you'll graduate with a wide range of skills at your disposal.
3. Languages are valuable
From translating the latest scientific research to employing cultural knowledge to clinch an important business deal, linguists play a vital role in helping shape the world. The latest research points to language learning as good for the brain, and enables you to become fluent in not only another language but another culture too.
4. Study up to three languages
We offer an amazing range of language choices and combinations. What's more, on the BA Modern Languages & Cultures you can study up to three languages! Our choice of combination degrees is vast. For example, you can combine languages with a diverse range of subjects from history to mathematics. See our courses.
5. Learn from leading experts
We rank Top 10 in the Russell Group for Research Impact (REF 2014). Our staff have published dozens of books and hundreds of journal articles on numerous topics. You'll receive the highest quality education no matter what area you're interested in.
6. Spend a year abroad
The year abroad is an integral part of our language degrees. You can choose to study at a university, find a work placement, or teach in a school under the British Council scheme. Our students tell us how rewarding this year is and how the skills they develop are particularly attractive to employers.
7. Develop a broad range of skills
You won't just study language at Sheffield. While we'll help you strengthen your language skills to the highest possible level, you'll also engage with the wider cultural context: literature, history, film, linguistics, society, business, politics and gender studies to name just a few. Our students study a rounded curriculum and are able to see the bigger picture.
8. An active student community
Our students get involved with various exciting projects that add to their student experience. There are so many options available, from volunteering with the local French-speaking refugee group 'Community Rendez-vous', performing live music as part of the Hispanic concert, scoring the winning goal in the Sauerkraut cup, to gaining first-hand translation experience with the Czech Castles project.
9. A great place to be a student
There is more to university life than academic study. You will also want to be at a university where you'll have lots of extracurricular options, and in this respect you simply can't do better than Sheffield. Sheffield Students' Union has been voted best in the country every year since 2009 in the Times Higher Education Student Experience Survey. With over 240 student societies, the Union offers something for everyone, and goes towards making Sheffield one of the best places to study in the UK.
10. A great place to live
Sheffield combines the benefits of a big city with the friendliness and ease of a small town. It has a very active music and theatre scene, as well as fantastic nightlife. And with the Peak District only 15 minutes away, it is easy to get out and enjoy the countryside for walks or outdoor sports. Sheffield also has a very low cost of living, and is one of the safest cities in the country.