The cancer theme is focused on our world-leading reputation in bone oncology, as well as translational research strengths in cancer genomics, the tumour microenvironment, thoracic and rare cancers.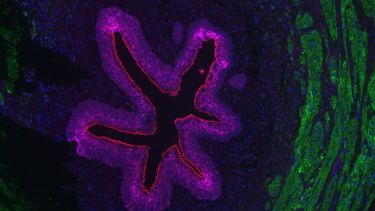 Off
We are a European Centre of Excellence for Neuroendocrine Tumours and have an international reputation in Ocular Melanoma, being one of 3 UK Centres of Excellence. We hold Experimental Cancer Medicine Centre (ECMC) status in recognition of our clinical trials expertise. We are also home to the Sheffield Cancer Centre bringing together a multi-disciplinary team of internationally recognised scientists and clinicians.
Meet the team
Dr Nasreen Akhtar

Professor Janet Brown

Professor Nicola Brown

Dr Helen Bryant

Professor Jim Catto

Professor Philippe Clezardin

Dr Spencer Collis

Professor Angela Cox

Mr Marcus Cumberbatch

Professor Sarah Danson

Dr William English

Dr Annica Gad

Professor Alison Gartland

Dr Alanna (Leni) Green

Professor Ingunn Holen

Professor Syed Hussain

Dr Chryso Kanthou

Dr Michelle Lawson

Dr Matthew Lee

Professor Claire Lewis

Dr Catriona Mayland

Dr Sarah Mitchell

Dr Jenna Morgan

Dr Munitta Muthana

Professor Penelope Ottewell

Dr Victoria Parker

Dr Gareth Richards

Dr Cyril Sanders

Dr Karen Sisley

Professor Tim Skerry

Dr Bilal Tahir

Dr Ruth Thompson

Dr Chris Toseland

Dr Ning Wang

Dr Liz Williams

Dr Steven Wood

Professor Lynda Wyld
Related projects and groups
Yorkshire Cancer Research (YCR) Catalyst for Innovation in Cancer Care and Treatment in Sheffield (YCR CONNECTS) exists to improve cancer outcomes in Yorkshire and beyond through research and innovation.
Find out more about the research projects being conducted in the field of musculoskeletal pharmacology.
Sarcomas are rare cancer that arise from mesenchymal tissue such as bone or connective tissue.
Bridging the Age Gap is an NIHR funded study that aims to optimise the management of older women and reduce the age-gap in cancer outcomes between older and younger women with breast cancer.
The Sheffield Myeloma Research Team are a group of researchers and clinicians dedicated to searching for a cure to myeloma and developing new drugs to deal with myeloma bone disease to improve the quality of life of patients with myeloma.
Find out more about the research projects being conducted in the field of microcirculation.
A new 'bench to bedside' scheme to convert innovative research across the University into new clinical trials in Sheffield.
Funded by Yorkshire Cancer Research, the Life and Bladder Cancer (LABC) survey is a project hoping to improve the quality of life of people with bladder cancer. 
Flagship institutes
The University's four flagship institutes bring together our key strengths to tackle global issues, turning interdisciplinary and translational research into real-world solutions.