1.5T multi-nuclear whole body MRI system – GE Artist
Our 1.5T GE Artist MRI scanner, situated at the Royal Hallamshire Hospital, has a max gradient of 44mT/m, max slew rate of 200mT/m/s, and a 70cm bore.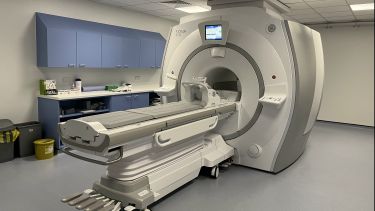 Off
---
---
We run four whole body MRI scanners across the two clinical research sites in Sheffield. All systems are located in a setting that is clinically covered for patient based imaging research.
All scanners have full multi-nuclear transmit-receive capability and 32 RF receive channels. Systems are equipped with RF coils for 1H, 129Xe, 31P, 3He, 19F, 13C and 23Na.
Flagship institutes
The University's four flagship institutes bring together our key strengths to tackle global issues, turning interdisciplinary and translational research into real-world solutions.