Digital Media and Society Team Take Part in the 72nd Annual ICA Conference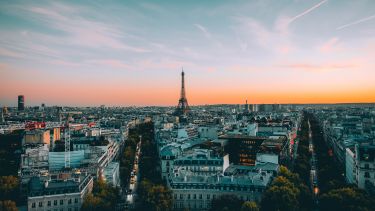 Six members of  the Digital Media and Society academic team have travelled to Paris to participate in the International Communication Association conference, a highly important and globally recognised event on the media and communications calendar. The theme of this year's 72nd annual conference is 'One World, One Network‽'.
Held face-to-face in Paris and online with a collective audience of over 3,800 delegates, the team were able to showcase their high impact research and expertise in a variety of formats, from presentations to roundtable discussions.
How did the team participate? 
The Digital Media and Society team has expanded in numbers from a team of one to over fifteen members in just a few years. For many of the team, this is the first in-person, large scale conference attended for a number of years. 
This was my first time attending ICA and my first opportunity to present (in person!) the work I have been doing with Helen Kennedy on Living with Data. It was great to share some of our findings with leading scholars and learn about exciting new work in the communication field

Dr Hannah Ditchfield

Research Associate on Previvorship in the Platform Society
---
ICA LGBTQ interest group has long been my academic home and I'm proud I could serve as its co-chair between 2017 and 2021. The roundtable on 'Futurity: Imagining (Im)Possibilities of LGBTQ Studies in Communication' was an excellent opportunity to discuss the current state of and future directions for LGBTQ media studies, calling for more intersectional, more transnational and more politically engaged scholarship.

Dr Łukasz Szulc

Lecturer in Digital Media and Society
Starting over 70 years ago, the ICA has grown exponentially, exceeding 6000 members in over 80 countries and continues to grow today. The importance of digital media and communication research continues to be a highly relevant and rapidly developing topic, impacting society on a global scale, shaping how we live and interact. The  research of our Digital Media and Society team continues to address these rapid changes, making real-world impact.
ICA 2022 was much more than media and communication. It was about rights, innovation, infrastructures, policy, science, visuality, context, identities, inequalities and social change. And it was remarkable to be part of it.

Dr Stefania Vicari

Senior Lecturer in Digital Society
We look forward to seeing how the team participate at the 73rd annual ICA, next year.
Flagship institutes
The University's four flagship institutes bring together our key strengths to tackle global issues, turning interdisciplinary and translational research into real-world solutions.