New Report: Local responses to household food insecurity across the UK during the COVID-19 pandemic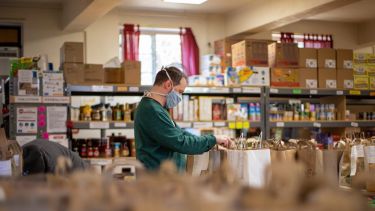 The new report is part of the Food vulnerability during COVID-19 project which is funded by the Economic and Social Research Council (ESRC) as part of the UK Research and Innovation's rapid response to COVID-19. The collaborative project is led by Dr Hannah Lambie-Mumford from the University of Sheffield and Dr Rachel Loopstra from King's College London, in partnership with Simon Shaw from the food and farming charity Sustain. 
The report explores local responses to household food insecurity in 14 local authority area case studies across the UK. The findings evidence the wide range of initiatives, from both local councils and the third sector, providing support during September 2020 to September 2021. Many new and adapted responses that were introduced early in the pandemic continued. Some pre-pandemic activities, such as community lunches, that had been paused as a result of lockdown restrictions, were gradually being reintroduced in some areas. 
This breadth of activity, across local councils and the third sector, suggests some promising trends that have the potential to reshape the landscape of local responses to food insecurity: increasing use of 'cash first' responses, strengthened partnership and collaborative working, and a range of actors driving for comprehensive approaches and system-wide strategies. However, whilst these trends offer promise, findings again evidence the demand on the food aid and community food sector, the toll of this reliance and the fear of growing need on a sector already at capacity – all areas of immediate and significant concern. By providing this evidence the research team hope the report's findings and recommendations help policy makers, practitioners, funders and others to learn lessons for the current and future response to food insecurity in the UK.
The report published today builds on the earlier in depth case studies in the 14 case study areas (published in July 2021). It draws on data collected through a series of online workshops in September 2021 which brought back together previous research participants for themed group discussion and reflection.