Patrick Kaczmarczyk delivers speech at leading European economic conference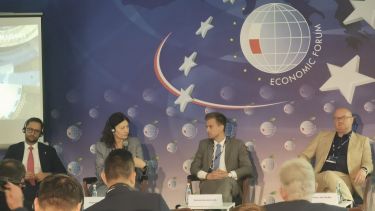 Over three days, 4000 delegates from over 60 countries attended the annual Forum in the city of Karpacz to discuss the environmental, social, and governance challenges that the European and the global economy face. The Economic Forum, one of the largest economic conferences held in Europe, was attended by senior politicians from European government, businesses, as well as representatives from think tanks, central banks, and civil society.
Patrick delivered a speech on the fragility of global supply chains, putting forward the argument that the supply bottlenecks currently being experienced around the world, in the wake of the COVID-19 pandemic, are an outcome of what he termed the "fallacy of efficiency". This argument is outlined in a blog published by SPERI today. Patrick made the case for a form of globalisation that is more regionalised and differently structured.
Patrick said: "It was the first time that I was invited to attend an event of this scale and prestige. It was an incredibly useful experience and a wonderful opportunity for networking, since I was able to make a number of connections that I am sure will last well beyond this week."
Patrick is now about to undertake a research position at the United Nations Conference on Trade and Development (UNCTAD) in Geneva. UNCTAD is the part of the United Nations Secretariat which promotes the interests of developing countries in global trade and finance. It regularly reports to the UN General Assembly. Over the next three months Patrick will be based as an economist in the Debt and Development Finance division to work on the new generation of UNCTAD financial condition indicators (FCIs), which function as an early warning system for developing and emerging economies to detect arising stress in their capital markets.