SPERI Spotlight: Introducing Dr Jasper Blom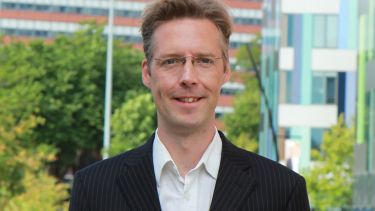 What does your research focus on?
My research focuses on shifts within the global order- specifically the shift from the G7 to G20 in global financial governance. Here, I am particularly interested in seeing whether changing inputs in terms of new countries and new actors may result in different outcomes in terms of financial regulations; and tracing how the G20 then affects other institutions and regulations within the global economy, such as the Basel Committee and the IMF.
How did you become interested in this topic?
I became interested in this topic for two primary reasons. In earlier research, I had examined the relationship between changing market structures and shifting patterns of governance in both the Basel Committee and the IMF, and I wanted to continue and expand on this research by looking in more detail at the apex global policy forum (first the G7, now the G20) and how that plays out. Secondly, although we have a good understanding of how in multi-level governance, policy issues are influenced by bottom-up and top-down processes and shift across levels, the shift from the G7 to the G20 has led to new actors shifting up to the global level of governance, and that is a different development where we need to build further understanding.
What are the challenges involved in doing research on this topic?
Perhaps the biggest challenge faced in conducting this type of research is gaining and maintaining access to relevant policy makers. As the G7 and the G20 are informal forums, there is very little official note taking – and no formal archives to speak of. Often, policy advisors themselves aren't in the room when key agreements or decisions are taken by the member country leaders, and so it can be difficult to understand what is going on in the room. Subsequently the impact which such decisions have on the technical forums like the Basel Committee is also informal. It's all very subtle in terms of the influence – and the phrasing of particular statements can make a big difference to negotiations, which is sometimes hard to grasp for outsiders. The second key challenge is related to how best to translate my research into concrete policy advice which can improve the democratic legitimacy of global economic governance.
What are the key future research questions in this area?
There are two issues we should take a closer look at. The first is the challenge to the global liberal order from more protectionist politicians such as Trump and the growing influence of non-liberal democracies on global financial governance (e.g. the G20 membership of Saudi Arabia and China). Of course, we are able to see some of the implications for the global trade regime already, but the impact on processes of financialisation more broadly is something we need to look into. I am also very interested in the ramifications of the Anthropocene for the political economy of finance. This new era puts the spotlight on conceptual and empirical questions around the role of finance in relation to the environment, the G20 greening finance agenda, the divestment movement, etc.
What has surprised you most whilst conducting research on this topic?
While my previous research focused on private influence within global governance processes (such as financial lobbying), I came to find that public actors also play an important independent role as originators of policy ideas. This is one key reason why I am now more focused on public actors and their informal coordination of changes in global market structures.
What does being a member of SPERI mean to me?
I enjoy engaging with a group of brilliant scholars who are working on key societal challenges such as inequality, precariousness, environmental issues and many aspects of contemporary capitalism. I also particularly appreciate SPERI's aim to conduct policy-relevant research and to create an inclusive political economy discipline, in which underrepresented voices are heard.