Blog writing workshops with Talat Yaqoob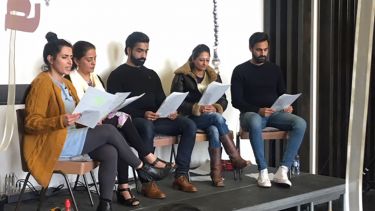 Glasgow Women's Library, 1.30-3.30pm, Saturday 7 July and Saturday 14 July
We had our first blog writing workshop titled 'Finding a Voice' with Talat Yaqoob, founder of Campaign 50:50 at the Glasgow Women's Library on Saturday 7th July.
Talat explored activities such as: 
How you would like to tell your story?
Is it with a pinch of humour?
Is it through reviewing/giving an opinion on a current affairs issue?
Talat explored different writing styles and the pros and cons of both within blog writing. Talat will continue the session on Saturday 14 July with discussions around how much of yourself to give away and staying safe with your story.
All blog writing workshops are based around the topic and theme of personal and intimate relationships among British Muslims and how to explore this medium through online blogs.
Blog writing workshops are free, booking is essential as places are limited.
Please email Dr Nafhesa Ali at n.ali@sheffield.ac.uk or Syma Ahmed at syma.ahmed@womenslibrary.org.uk to book your place or for more information. 
Events at the University
Browse upcoming public lectures, exhibitions, family events, concerts, shows and festivals across the University.